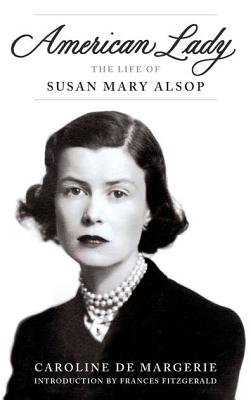 American Lady (Hardcover)
The Life of Susan Mary Alsop
Viking Books, 9780670025749, 256pp.
Publication Date: November 8, 2012
* Individual store prices may vary.
Description
The fascinating story of one of the grand dames of Georgetown society and a true Washington insider
Henry Kissinger once remarked that more agreements were concluded in the living room of Susan Mary Alsop than in the White House. A descendent of Founding Father John Jay, Susan Mary was an American aristocrat whose first marriage gave her full access to post-war diplomatic social life in Paris. There, her circle of friends included Winston Churchill, Isaiah Berlin, Evelyn Waugh, and Christian Dior, among other luminaries, and she had a passionate love affair with British ambassador Duff Cooper. During the golden years of John F. Kennedy's presidency after she had married the powerful journalist Joe Alsop her Washington home was a gathering place for everyone of importance, including Katharine Graham, Robert McNamara, and Henry Kissinger. Dubbed the second lady of Camelot, she hosted dinner parties that were the epitome of political power and social arrival, bringing together the movers and shakers not just of the United States, but of the world. Featuring an introduction by Susan Mary Alsop's goddaughter Frances FitzGerald, "American Lady" is a fascinating chronicle of a woman who witnessed, as Nancy Mitford once said, history on the boil.
About the Author
Caroline de Margerie, a former diplomat, is a member of the Conseil d Etat, the supreme administrative court in France. She lives in Paris.

Christopher Murrayis an American translator and musicologist based in Paris.

Frances FitzGeraldis the author of several nonfiction works, including the Pulitzer Prize and National Book Award winning"Fire in the Lake." She lives in New York City."
Praise For American Lady: The Life of Susan Mary Alsop…
Praise for American Lady by Caroline de Margerie

"Marvelous…Reveals the influence and insight of the American hostess, who lived so elegantly in the public eye, and so passionately when no one was watching."—The New York Times   "Caroline de Margerie avoids hagiography, instead depicting a fabulously interesting, complicated and influential woman."—The Chicago Tribune   "The first-ever biography of the Georgetown doyenne, charts her life from Paris—where she charmed Winston Churchill and was a favorite of Christian Dior—to Washington D.C., where she threw some of the best parties of the Camelot era."—The Wall Street Journal   "[De Margerie] goes behind the façade to reveal a passionate personality torn between her sense of duty and her personal desires…De Margie had access to some 500 previously unseen letters."—Women's Wear Daily

"Compact, entertaining…de Margerie colorfully unpacks the details of Alsop's life."—The Washingtonian

"Feminine insights into the life of this fascinating woman."—Printers Row Journal

"The story of a determined, pedigreed woman…A saloniste extraordinaire."—The Washington Times
 

"This is not just an exquisitely perceptive portrait of a remarkable woman, it is a beautifully painted conversation piece including many of the great figures from a privileged age of elegance and intelligence."—Antony Beevor, bestselling author of The Second World War



"Susan Mary Alsop was a cool, beautiful admixture of public discretion and private daring. On two continents and over four decades she invited the world's most powerful people to her homes, facilitating, networking, connecting. Caroline de Margerie's American Lady, is as sharp and stylish as its fascinating subject."—Stacy A. Cordery, author of Alice: Alice Roosevelt Longworth, from White House Princess to Washington Power Broker

"The history of post war Europe and America told through the prism of power and privilege.   A most enjoyable book about a most elegant lady."—Jane Stanton Hitchcock, author of Mortal Friends

"Like Jackie Kennedy, Susan Mary Alsop was the kind of American aristocrat who survived with her wits and good manners. From her days as a diplomatic wife in Paris after WWII through her unconventional marriage to legendary political columnist Joe Alsop in 1960s Washington, Susan Mary hostessed her way to a place in history and created a political salon that boasted Kennedys, Kissingers and an impressive social roster in Georgetown. Author Caroline de Margerie deftly chronicles the life of a woman who gave little away emotionally but whose range of experience speaks for itself. Susan Mary Alsop was the model of a well-bred survivor who capitalized on life's social opportunities."—Cherie Burns, author of Searching for Beauty: The Life of Millicent Rogers

"Once upon a time the coolest people in the world were Americans. From the era of F. Scott Fitzgerald through that of Mad Men, they set the scene for the age of Camelot and not a few of its most consequential confrontations. No one better exemplified this rarefied and influential species than Susan Mary Alsop, whose eventful, thoughtful, complex and passionate life Caroline de Margerie brilliantly chronicles in this exquisitely researched, impossible to put down biography."—Thomas Caplan, author of The Spy Who Jumped Off the Screen

"An engrossing, perceptive, and nuanced portrait of a celebrated socialite who once knew everyone worth knowing."—Publishers Weekly

"Written with a verve and clarity that her subject would both admire and regret, An American Lady captures the  charms, contradictions and convictions that put Susan Mary Alsop at the crossroads of society, politics, and glamorous love affairs in Paris, Washington, and her other ports of call. Many of the great men---and women---of her time gravitated to Susan Mary's movable salon to take in each other, and their ever resourceful hostess. It's all here."—Jim Hoagland, Contributing Editor, The Washington Post

"Thin, fashionable, well informed, yet a little wicked, Susan Mary had what it took to be talked about, and the Alsops' gatherings were the talk of Georgetown's "glory years." Paris-based author de Margerie paints in bold, bright outlines the compelling story of this Jamesian heroine. Entertaining story of a dynamic literary woman who sparked a fascinating life from the changing currents of the age."—Kirkus Reviews
or
Not Currently Available for Direct Purchase