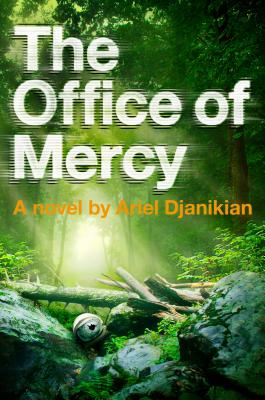 The Office of Mercy
Hardcover

* Individual store prices may vary.
Other Editions of This Title:
Digital Audiobook (3/24/2013)
Compact Disc (3/25/2013)
MP3 CD (3/25/2013)
Compact Disc (3/25/2013)
Paperback (1/28/2014)
MP3 CD (3/25/2013)
Compact Disc (3/25/2013)
Description
A thrilling debut of a postapocalyptic world for fans of "The Hunger Games"
Weaving philosophy and science together into a riveting, dystopian story of love and adventure, "The Office of Mercy" illuminates an all-too-real future imagined by a phenomenal new voice in fiction.
Twenty-four-year-old Natasha Wiley lives in America-Five a high-tech, underground, utopian settlement where hunger and money do not exist, everyone has a job, and all basic needs are met. But when her mentor and colleague, Jeffrey, selects her to join a special team to venture Outside for the first time, Natasha's allegiances to home, society, and above all to Jeffrey are tested. She is forced to make a choice that may put the people she loves most in grave danger and change the world as she knows it.
"The Office of Mercy" is speculative fiction at its best with a deeply imagined, lush world, high-stakes adventure, and romance that will thrill fans of Suzanne Collins, Margaret Atwood, Justin Cronin, and Kazuo Ishiguro.
Praise For The Office of Mercy…
"As Orwell knew, the best dystopian fiction is close enough to reality to make it scarily believable. . . . It's the same way in Ariel Djanikian's thrilling debut The Office of Mercy. . . . At its heart, The Office of Mercy is a thriller. . . . Scary and realistic. . . Fast-paced. . . Exciting to read. . . . With Natasha, Djanikian has crafted a hero who is memorable precisely because of her imperfections. . . . It's fascinating, and at times heartbreaking, to witness her incremental growth as she begins to question everything she's been taught. It takes a blend of intelligence and compassion to pull off that kind of convincing character arc, but it also takes great authorial skill. . . . The Office of Mercy is an indisputable page turner with a surprising ending — and crafting prose. . . . The stunning, willfully oblivious cruelty of America-Five is chilling because of its plausibility — you don't have to look past our own history for examples of mass slaughter, eugenics and euphemized government propaganda. It's hard to miss the echoes of Orwell in Djanikian's dark vision of both the past and the future."
—Michael Schaub, npr.org

" A cool and compelling dystopian bildungsroman from a debut author we imagine we'll be hearing a lot more from."
—Emily Temple, Flavorwire

"A remarkable coming-of-age dystopian novel, fast-paced and thought provoking throughout."
—Largehearted Boy

"[A] horrifically brutal, compelling debut. . . . A grim muse on a future with shades of The Hunger Games, Djanikian's first offering should attract readers voracious for this popular subgenre."
—Booklist (starred review)
  
"The title of Ariel Djanikian's first book, The Office of Mercy, is as disturbing as it is ironically fitting. Using a fresh, effortless descriptive style, Djanikian projects us into a futuristic world wiped clean by a man-made devastation called the Storm. . . . Djanikian puts us through the ethical ringer. . . . Which isn't to say there's not also a good deal of juice here, too--Natasha totally bust an actual move on her superior, as opposed to resorting to passive cybering."
—Whitney Dwire, Bust magazine
  "Fascinating. . . . Djanikian's fictitious world combines both the horrifying consequences of ethnic cleansing with the bright new hope of how much one person can do to change history. Both believable and chilling, this tale transports readers to a futuristic utopic life where good and evil mingle with equal opportunity and are often indistinguishable to the characters. This intriguing slice of future drama ends much too soon, and will leave readers begging for a sequel, if not a series." —Kirkus Reviews
 
"[Djanikian] truly shines by plunging her characters into existential crises as they question and finally confront the foundations on which their lives are built. Fans of sci-fi and speculative fiction will enjoy this adventurous exploration of human nature."
—Tobias Mutter, Shelf Awareness for Readers
 
"Intriguing premise. . . . In this thoughtful debut, Djanikian explores the disconnect between a utopian vision and its dystopian implementation. . . . Natasha Wiley, a young citizen assigned to the Office of Mercy, knows empathy will only get in the way of her necessary work, but when she comes into close contact with one of the tribes, her reaction sets off world-changing events."
—Publishers Weekly   "If you think a future world without suffering would be a good thing, Ariel Djanikian will convince you to reconsider in her impressive debut The Office of Mercy. Gripping, well-plotted, and boasting a fascinating setting, this utterly engrossing tale is thoughtful and surprising. Djanikian's adroit writing turns the elements of the dystopian novel on their head, and the central character's struggles in America-Five were, by turns, both starkly foreign and hauntingly familiar." —Deborah Harkness, New York Times bestselling author of A Discovery of Witches and Shadow of Night
 
"I gulped this startlingly smart debut down, unable to stop before I found out what happened to brave Natasha and her America-Five compatriots."
—Emma Straub, author of Laura Lamont's Life in Pictures
  "The Office of Mercy confronts us with a portrait of a smoothly heartless world that's viscerally imagined, increasingly harrowing, and beautifully moving. As we continue to squander or destroy the finite resources our planet has remaining, and the gap between the elite and the trampled continues to widen, the heartbreaking and chilling vision that Ariel Djanikian outlines starts to seem like our most—if not our only— plausible future." —Jim Shepard, author of Like You'd Understand, Anyway   "Ariel Djanikian has written a novel of strange and stirring passions. Her dystopia is familiar to us because it is the land of our nightmares, our myths, and histories—yet Djanikian infuses it with startling novelty. The writing is both languidly sensual and suspenseful. This novel ushers in an important new voice." —Laura Kasischke, author of In a Perfect World   "An action-packed novel of fascinating ideas set in a fully-imagined world that is both alluring and terrifying. Serious, entertaining, and seriously entertaining." —Charles Yu, author of How to Live Safely in a Science Fictional Universe
 
Viking Books, 9780670025862, 304pp.
Publication Date: February 21, 2013
About the Author
Ariel Djanikian graduated from the University of Pennsylvania in 2004 and holds an MFA in fiction writing from the University of Michigan. She lives in Chapel Hill, North Carolina, with her husband and daughter. "The Office of Mercy" is her first novel. www.arieldjanikian.com
or
Not Currently Available for Direct Purchase