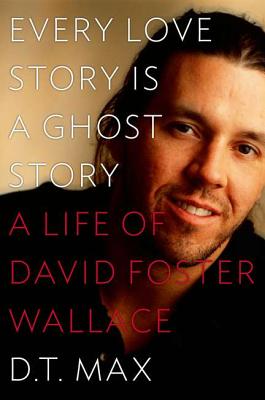 Every Love Story Is a Ghost Story
A Life of David Foster Wallace
Hardcover

* Individual store prices may vary.
Other Editions of This Title:
Digital Audiobook (8/29/2012)
MP3 CD (8/11/2015)
Compact Disc (9/28/2016)
Paperback (8/27/2013)
Compact Disc (8/30/2012)
MP3 CD (8/30/2012)
Compact Disc (8/30/2012)
MP3 CD (8/30/2012)
Description
The first biography of the most influential writer of his generation, David Foster Wallace

David Foster Wallace was the leading literary light of his era, a man who not only captivated readers with his prose but also mesmerized them with his brilliant mind. In this, the first biography of the writer, D. T. Max sets out to chart Wallace's tormented, anguished and often triumphant battle to succeed as a novelist as he fights off depression and addiction to emerge with his masterpiece, Infinite Jest.

Since his untimely death by suicide at the age of forty-six in 2008, Wallace has become more than the quintessential writer for his time—he has become a symbol of sincerity and honesty in an inauthentic age.  In the end, as Max shows us, what is most interesting about Wallace is not just what he wrote but how he taught us all to live. Written with the cooperation of Wallace's family and friends and with access to hundreds of his unpublished letters, manuscripts, and audio tapes, this portrait of an extraordinarily gifted writer is as fresh as news, as intimate as a love note, as painful as a goodbye.
Praise For Every Love Story Is a Ghost Story: A Life of David Foster Wallace…
Praise for
Every Love Story Is A Ghost Story
"In his revealing new biography, D.T. Max gives us a sympathetic portrayal of Wallace's life and work, tracing the connections between the two, while mapping the wellsprings of his philosophical vision…what Mr. Max's book does do -- and does powerfully – is provide an emotionally detailed portrait of the artist as a young man."
–Michiko Kakutani, The New York Times


"All readers, even those who know nothing of Wallace, will be moved by the portrayal of one man's honest struggle with mental illness…the portrayal of the latter half of his life is deeply sympathetic and surprisingly inspiring…[the book's] poignancy is in its emphasis on Wallace's years of hard-earned survival and his efforts, though unrealized, toward artistic transformation." –Sam Sacks, The Wall Street Journal


"A well-crafted, insightful chronicle of this singular writer's life and literary work…Max's biography succeeds on multiple levels: through his astute interpretations of Wallace's literary output and liberal quotes from the writer himself, this book very much embodies the spirit and life of Wallace…for this reader, the biography provides a measure of solace – that is this great writer can't be among us, at least he can be remembered in all of his genius and complexity." –S. Kirk Walsh, The San Francisco Chronicle


"I'm having trouble remembering when I was last so consumed by any piece of writing, fiction or non… In providing a more complete sense of Wallace than we ever had while he lived, it makes his death feel more real, somehow more irrefutable. And, for anyone who felt a profound emotional connection to Wallace and his work, there's a strenuously cathartic dimension to this: the experience of knowing him more fully, and of thereby feeling more completely the force and finality of his absence." –Mark O'Connell, Slate.com


"Documenting the life of a writer as revered and tormented as the late David Foster Wallace is a fraught task at best. D.T. Max has done an admirable job with Every Love Story is a Ghost Story…what emerges is a vivid portrait of an artist whose verbal brilliance was continually hampered, and ultimately silenced, by debilitating mental illness." –Steve Almond, The Boston Globe


"While Max appears to greatly admire Wallace as a writer and feel compassion for him as a man, he is never starry-eyed, or pulls his punches. Every Love Story is a Ghost Story is as illuminating, multifaceted, and serious an estimation of David Foster Wallace's life and work as we can hope to find." –Elissa Schappell, Vanityfair.com


"Brilliant and compulsively readable… a convincingly intimate and lucid narrative...Max's new biography deftly reassembles the life of David Foster Wallace…strips away the legend and gives us an all-too-human writer." –Taylor Antrim, Vogue.com


"Full of all kinds of strange surprises, painting the most complete, and warmest, portrait of Wallace yet." –Rolling Stone


"Wallace's first biographer, the lucid and energetic D.T. Max, restores the man to his own story. Every Love Story is a Ghost Story takes a balanced and unfussy approach, avoiding hagiography and dealing directly with both the gifts and flaws of a mammoth talent…Max makes us wish Wallace were alive to continue the conversation." –Gemma Sieff, Town and Country
"All dedicated readers of contemporary American literature will know the tragic, haunting and ultimately unfathomable story of David Foster Wallace, the prodigiously gifted writer - no, genius - who reshaped the contours of both the novel and long-form nonfiction in his far-too-brief life. D. T. Max has now provided answers to the questions that can be answered and asked, with tact and grace, the ones that can't. His biography is a model of deep scholarly excavation and acute sensitivity, an exemplary feat of literary portraiture."
—James Atlas, author of Bellow: A Biography


"This book is vey well-researched, deeply sympathetic, and incredibly painful to read. We should feel grateful that this story was told by someone as talented and responsible as D.T. Max." —Dave Eggers, author of A Hologram for the King


"This book should be handed to anyone who wants to write, if only to remind the aspiring writer that becoming a voice of generational significance turns out to be very poor insulation indeed from struggle, fear, and despair. D. T. Max is beautifully attuned to Wallace's strengths, whether personal or literary, and bracingly clear-sighted on his flaws. The result is a book that's moving, surprising (Wallace voted for Reagan?), and hugely disquieting. If you love Wallace's work, you obviously need to read this book; if you don't love Wallace's work, you especially need to read this book."  —Tom Bissell, author of The Father of All Things


"A damnably readable, streamlined, yet deeply researched work.  Skipping the ancestors and aftermath of conventional biography, Max gives us the man, his work, and his times--the niceties of which (so complicated, so exquisitely intertwined) Max articulates with, well, Wallace-like lucidity and wit.  Above all this is the story of a touching young man who insisted on being something better than simply the smartest person in the room." —Blake Bailey, author of Cheever: A Life


 "I'd worried that by making David Foster Wallace less mythic, D. T. Max would make him smaller. But the accretion of well-chosen details makes Wallace greater: a complete human being, one whom these superbly reported pages allow us to know rather than to worship. And that makes his loss even more unbearable." —Anne Fadiman, author of At Large and At Small

"This a book about being human, living human, writing human -- Wallace's own subjects -- and chronicles with real compassion the complex, fierce joy Wallace took in being alive.  A treat for Wallace fans and anyone who cares about the prose of our time." —Brenda Wineapple, author of White Heat


"Building on his acclaimed New Yorker profile, Max draws on his unparalleled access to sources--from friends and family members to previously unpublished notes and letters--and renders a life and literary portrait that fans will devour and critics will find indispensable. Through the grace of D. T. Max's clear prose readers will know Wallace and miss him as never before." —Evan Wright, author of Generation Kill 


"D.T. Max's biography is a touchingly sad story, well and honorably told, and consistently full of the human warmth that David Foster Wallace longed for, in his life and his work-- a longing he could never quite satisfy in either."
—Madison Smartt Bell, author of The Color of Night



Viking, 9780670025923, 368pp.
Publication Date: August 30, 2012
About the Author
D. T. Max, a graduate of Harvard University, is a staff writer for The New Yorker.  He is the author of The Family That Couldn't Sleep: A Medical Mystery. He lives outside of New York City. 
or
Not Currently Available for Direct Purchase