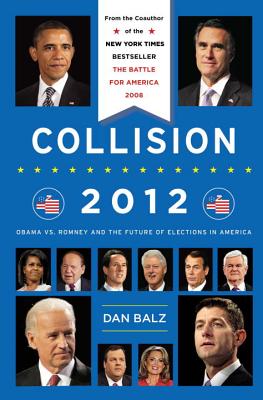 Collision 2012 (Hardcover)
Obama vs. Romney and the Future of Elections in America
Viking Books, 9780670025947, 381pp.
Publication Date: August 6, 2013
Other Editions of This Title:
Digital Audiobook (9/17/2013)
Compact Disc (9/18/2013)
Paperback (8/26/2014)
Pre-Recorded Audio Player (12/1/2013)
Compact Disc (9/18/2013)
MP3 CD (9/18/2013)
* Individual store prices may vary.
Description
From the bestselling author of "The Battle for America 2008" and longtime "Washington Post" correspondent, an inside view and analysis of the Obama-Romney presidential race
Four years ago, a bright young presidential candidate named Barack Obama campaigned on a theme of hope and change, and made history. Today, he finds himself in another bitter, divisive presidential race but without the buzzwords. Instead, an embattled president struggles with a dysfunctionally divided Congress, the controversial healthcare bill, a decade-long war, and a stagnant economy.
Obama's Republican challenger, Mitt Romney, former corporate tycoon and former governor of Massachusetts, faces his own controversies in the form of vague policies, fluctuating positions, and questions about his business practices in the private sector. Romney's personal fortune and business background seemed at odds with the Republican base until he named Wisconsin congressman, Tea Party darling and fiscal conservative Paul Ryan as his running mate.
Using sources deep inside both campaigns and on the campaign trail through primary and battleground states, "Washington Post" correspondent Dan Balz writes with a keen political mind and a seasoned reporter's ear. He traces the highs and lows of the Obama presidency as well as the ruthless Republican primary as both laid the groundwork for one of the most crucial, contentious elections of our time." Collision 2012" puts the race for the White House in context and explores just what the election means for the future of the democratic process and America.
About the Author
Dan Balz is the chief correspondent at "The Washington Post" and its former national editor, political editor, White House correspondent, and Southwest correspondent. He is the coauthor of two books, the "New York Times "bestseller "The Battle for America 2008" and "Storming the Gates." He is a regular panelist on PBS's "Washington Week "and MSNBC's "The Daily Rundown."
Praise For Collision 2012: Obama vs. Romney and the Future of Elections in America…
"Dan Balz's "Collision 2012" is the best presidential campaign chronicle in many years. It is a great book, in part because it isn't about what happened as much as about how people in the campaigns were thinking. It is unusual in that it gives proper place to the impact of thought on political outcomes.
– Peggy Noonan, Wall Street Journal

 "Dan's ability to be a fly on the wall is unparalleled."
—Gwen Ifill, PBS

"The behind-the-scenes reporting throughout—heck, the Christie chapter alone—makes the book a must-read… It was a fascinating ride, which Balz captures vividly in this
most worthy sequel to The Battle for America 2008."
–Al Kamen, The Washington Post

"This is more than a look back at the last presidential race. It is a close look into the campaign. I lived it every day, but I'm already learning a lot from Dan's deep reporting. It will go on my shelf as a Bible of the great 2012 race."
–Jeff Zeleny, ABC News

"Coming from one of the most respected reporters in politics, Balz's account is perhaps the most highly anticipated of the 2012 campaign retrospective genre."
–Huffington Post

"With a sharp eye for detail, crisp and often evocative prose, an understanding of politics and politicians, and the experience gained over decades as a thoughtful old-school journalist, Balz recreates the rhythms of the grueling presidential year of 2012"
—The Washington Times

"This book is old-fashioned in a good sense…. Specific without being tedious, "Collision 2012" is short on windy analysis and long on attributed quotes and statistics"
—The Washington Post, Howell Raines

 "Balz's new book, "Collision 2012: Obama vs. Romney and the Future of Elections in America," is so full of anecdotes and revelations that it is hard to stop. But I will. Because even though I think this is one of the best political books I have ever read, harkening back to the "Making of the President" books in terms of its richness of detail and analysis, it is not a collection of anecdotes. Instead, it is a searing, unsparing indictment of America's presidential election system and the way candidates run for office."
—Roger Simon, Politico

"As the Washington Post's chief correspondent, Dan Balz is one of a handful of old media lions who can still shape the conventional wisdom; as such his new campaign book "Colllision 2012? is as close to an account-of-record as we're likely to get."
—Alex Halperin, Salon.com

"Washington Post chief correspondent Dan Balz's new book, Collision 2012: Obama vs. Romney and the Future of Elections in America, is everything one would expect from the worthy successor to the mantle of Balz's mentor, the late David Broder. Without a trace of snarkiness or the self-righteousness that creeps into too many books by journalists about politics, and without overemphasizing which campaign operative stabbed which one in the back, Balz walks us through the often zany and never boring 2012 election cycle."
– Charlie Cook, National Journal

"Dan Balz, a veteran Washington Post reporter who wrote The Battle for America, 2008, a best-selling account of that year's presidential race, offers us an admirable sequel in Collision 2012."
– Ed Luce, Financial Times
 
or
Not Currently Available for Direct Purchase