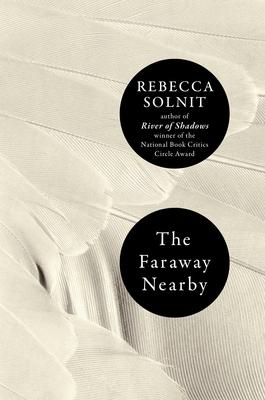 The Faraway Nearby
Hardcover

* Individual store prices may vary.
Other Editions of This Title:
Paperback (4/29/2014)
MP3 CD (5/31/2016)
Description
This personal, lyrical narrative about storytelling and empathy from award winner Rebecca Solnit is a fitting companion to her beloved A Field Guide for Getting Lost
In this exquisitely written new book by the author of A Paradise Built in Hell, Rebecca Solnit explores the ways we make our lives out of stories, and how we are connected by empathy, by narrative, by imagination. In the course of unpacking some of her own stories of her mother and her decline from memory loss, of a trip to Iceland, of an illness Solnit revisits fairytales and entertains other stories: about arctic explorers, Che Guevara among the leper colonies, and Mary Shelley's Dr. Frankenstein, about warmth and coldness, pain and kindness, decay and transformation, making art and making self. Woven together, these stories create a map which charts the boundaries and territories of storytelling, reframing who each of us is and how we might tell our story.
Praise For The Faraway Nearby…

 
Praise for The Faraway Nearby

"A brilliant, genre-refuting book…the power of The Faraway Nearby, as in Solnit's previous writing, lies in its juxtapositions, its clusters of narrative nerves…Solnit is a wanderer who collapses distance."—The San Francisco Chronicle
 
"A memoir made up of interlocking stories that also explore the way we use storytelling to understand ourselves and others…In her famously lyrical prose, Solnit writes about her own life, her family, and her reading, and she revisits the myths and ideas that have shaped her world."—New Yorker.com
 
"Solnit opens a door into a maze of stories within stories, a dreamlike memoir composed of fairy tales, literary criticism, history, philosophy and aphorism…the product of a remarkable mind at work, one able to weave a magnificent number of threads into a single story, demonstrating how all of our stories are interconnected."—Bookforum
 
"A deeply moving account of why we create – why we make stories…What Solnit offers us, I think, is the future of memoir.  Not the story of the self…but the ways in which one's story opens into other stories… …literary nonfiction doesn't get more beautiful and compelling."—The American Scholar
 
""Part essay collection, part memoir, and part meditation, The Faraway Nearby takes a thoughtful, fresh look at how stories function in our lives…Solnit never gives up on the idea that any of us can redefine who we are and what we want – even in our most challenging and overwhelming periods."—oprah.com
 
"Solnit makes us all more daring and creative thinkers, as she intuits links between seemingly unconnected subjects, encouraging the reader to follow her lead."—The Daily Beast

"The Faraway Nearby is a masterpiece, about nothing less than the story (the myth, the fairy tale) we are living, about how we can step out of that story to become who we are, who we are meant to be. 'The self is also a creation, the principal work of your life, the crafting of which makes everyone an artist,' says Solnit, and she is one of the few writers alive able to be our guide in this 'unfinished work of becoming.'   This book is a gift—it will make your life larger." —Nick Flynn, author of The Reenactments

"Scheherazade nested one tale inside another in order to save her life; Rebecca Solnit dovetails her own intricate stories to trace the seemingly disparate but profoundly connected elements of a life:  a hundred pounds of apricots, a mother vanishing into a haze of forgetting, the allure of ice, the way we locate ourselves in the world through telling stories, finding a voice for the silent self who becomes real as she or he is spoken. When you sit down to a new book by Solnit, you know that you'll come up from it changed:  the world seems both more clear and more mysterious at once. Here's one of the most trustworthy voices we have; Rebecca Solnit makes, in book after marvelous book, a new map of the world." —Mark Doty, author of Fire to Fire:  New and Selected Poems
Viking Books, 9780670025961, 259pp.
Publication Date: June 13, 2013
About the Author
Rebecca Solnit is the author of twelve books, including A Paradise Built in Hell, A Field Guide to Getting Lost, River of Shadows, which won the National Book Critics Circle Award and the Mark Lynton History Prize, and Wanderlust. The recipient of a Lannan Literary Award, she lives in San Francisco."
or
Not Currently Available for Direct Purchase