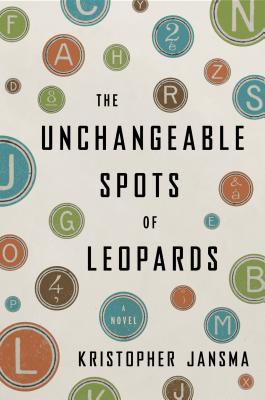 The Unchangeable Spots of Leopards
Hardcover

* Individual store prices may vary.
Other Editions of This Title:
Paperback (2/25/2014)
Hardcover, Large Print (5/22/2013)
Description
"F. Scott Fitzgerald meets Wes Anderson" ("The Village Voice") in this inventive and witty debut about a young man's quest to become a writer and the misadventures in life and love that take him around the globe
From as early as he can remember, the hopelessly unreliable yet hopelessly earnest narrator of this ambitious debut novel has wanted to become a writer.
From the jazz clubs of Manhattan to the villages of Sri Lanka, Kristopher Jansma's irresistible narrator will be inspired and haunted by the success of his greatest friend and rival in writing, the eccentric and brilliantly talented Julian McGann, and endlessly enamored with Julian's enchanting friend, Evelyn, the green-eyed girl who got away. After the trio has a disastrous falling out, desperate to tell the truth in his writing and to figure out who he really is, Jansma's narrator finds himself caught in a never-ending web of lies.
As much a story about a young man and his friends trying to make their way in the world as a profoundly affecting exploration of the nature of truth and storytelling, "The Unchangeable Spots of Leopards" will appeal to readers of Tom Rachman's "The Imperfectionists" and Jennifer Egan's Pulitzer Prize winning "A Visit from the Goon Squad" with its elegantly constructed exploration of the stories we tell to find out who we really are.
Praise For The Unchangeable Spots of Leopards…
"At times, the novel is a string of short stories; at others, it is a set of matroyshka dolls, containing, at one point, a novel within a short story wihthin a novella within a novel. ...Jansma approaches them with wry humor and a steady hand. The narrator's games never fail to entertain, even if he is constantly changing the rules."
--The New Yorker

"[A] tricky picaresque thick with literary allusion from Fitzgerald to Amis…[A] clever, tightly paced novel of ever-upping stakes." 
—Vogue.com

"Playfully weird...I'd call this book "postmodern," but that makes it sound like it's not as pleasurable to read as it is."—Meg Wolitzer, author of the New York Times bestselling The Interestings on NPR.com

"Though one might recognize bits of Dickens, Fitzgerald or Hemingway, this is simply a good case of stealing from geniuses. It's a breathless work the celebrates the literary tradition, while making a strong case that its author belongs on the shelf beside his forebears."
—Time Out New York (5 Stars)

"Couched in Jansma's wildly recursive funhouse of a novel is a coming-of-age story…filled with clever literary allusions and insider jokes…[T]here's plenty to relish in this noteworthy debut."
—Heller McAlpin for NPR.org

"F. Scott Fitzgerald meets Wes Anderson…[T]he novel strikes a cord on questions of authenticity, love, and ambition, and it reminds us that life is often out of our control, even if we're writing it down."
—The Village Voice

"One of the best books of the year."
—Jeff Glor for CBS Author Talk

"[Jansma is] a writer of extreme promise, who seems to belong to an older generation."
—Electric Literature "Recommended Reading"

"[A] slippery and energetic debut novel…rapid in pace, the language and details tightly controlled…It's tremendous fun, this book."
—San Francisco Journal of Books

"[T]his mind-blowing spiral of a book will also appeal to anyone who enjoys their fiction as playful as it is intriguing."
—Book Reporter

"The Unchangeable Spots of Leopards' intricate narrative game and its carbon-burning escapades add up to a novel that is wise about identity and aspiration, competitive storytelling, romantic obsession and the assertion that 'all these stories are true, only somewhere else.'"
—Shelf Awareness

"Captivating…[A] smart, searching debut about art and identity."
—Library Journal

"[A] canny, seductive, and utterly transfixing tale about the magic of storytelling
and the misery of writing…Like a magician pulling a seemingly endless string of colorful scarves from a hat, Jansma streams stories-within-stories-within-stories, each a diabolically clever homage… Readers will detect riffs on Fitzgerald, Hemingway, Truman Capote, Bob Dylan, Tolstoy, Salinger, Borges, Kipling, and many more…A first novel with the strength and agility of a great cat leaping through rings of fire."
—Booklist (Starred)

"[An] arresting debut…Jansma's characters deftly explore the blurred lines between fact and fiction, discovering the shades of truth that lie in between."
—Publishers Weekly

"Absorbing...Jansma [is] a writer to watch."
—Library Journal (2013 Fiction Preview)

"A terrifically fun book that's a little bit Calvino, a little bit Jennifer Egan, and a little bit the inside of every young artist that ever was. Concerned with the nature of storytelling, art, fallacy, and f**king up, and told as only a witty wordsmith can, we're pretty sure it'll be one of your favorites in the new year."
—Flavorwire / Named one of their "50 Up-and-Coming New York Culture Makers to Watch in 2013"

"THE UNCHANGEABLE SPOTS OF LEOPARDS is my new exhibit A for the defense of literary fiction. A great read—a must read. Kristopher Jansma is more than the real-deal. He's made himself, with this book, essential."
—Darin Strauss, author of More Than It Hurts You

"Light and airy, THE UNCHANGEABLE SPOTS OF LEOPARDS is a funhouse of a novel about the outsized ambitions of authors and the sneaky power of storytelling.  Kristopher Jansma's debut is a whimsical round-the-world tour that recalls Calvino, Millhauser and The Confidence Man."
—Stewart O'Nan, author of Last Night at the Lobster

"Emblematic of its many delightful complexities, the writer-as-narrator of this exciting debut novel brings to mind both Holden Caufield and Tom Ripley. This is a coming of age novel, albeit not an especially tender one; rather it is infused with wicked satire on the pursuits of wealth, fame and love. As if he were running the literary equivalent of a game of 3-card Monte, Jansma's protagonist artfully charms and deceives his friends and readers as a means to revealing what is true. THE UNCHANGEABLE SPOTS OF LEOPARDS is a remarkably smart novel and it's great fun, too."
—Binnie Kirshenbaum, author of The Scenic Route

"Kristopher Jansma is a brilliant writer of energetic, original, intelligent, skillful and highly imaginative and hysterically funny fiction.  Few writers of any age succeed in the chances he took with THE UNCHANGEABLE SPOTS OF LEOPARDS. That he does so with such finesse, ease and maturity is astounding."
—Stephen Dixon, author of What Is All This?

"Lies are as essential to our lives as truth, time, and love. With THE UNCHANGEABLE SPOTS OF LEOPARDS, Kristopher Jansma escorts us through a carnival funhouse of literary mirrors where truth and lies are so delightfully melded that we, like the
characters themselves, don't care to distinguish between them. The result is a dynamic, imaginative adventure featuring a trio of characters that are constantly shifting, yet instantly recognizable, as endearing as they are flawed. But the true leopards of
Jansma's novel may be the deep questions crouching deftly within its pages. I, for one, may never regard my own reflection with quite the same certainty again."
—Kenneth Slawenski, author of J.D. Salinger: A Life

"The brilliance of this novel slays me! With an extravagance of wit and grace, Kristopher Jansma has masterfully composed a chimerical, matroshka doll of a story as gripping as it is inventive, as moving as it is hilarious, populated with fascinating,
singular characters about whom you long to know more and more and more. (Even the extras are drawn in pitch-perfect detail.) It reminded me of so many favorite novels, from David Mitchell's Ghostwritten to Gary Shteyngart's The Russian Debutante's Handbook, and yet it's so deeply original that all comparisons fall out the window. This is the most fresh and exciting novel I've read in ages."
—Joanna Smith Rakoff, author of A Fortunate Age

"Behold THE UNCHANGEABLE SPOTS OF LEOPARDS: an eloquent, witty, and inventive debut novel about a promising young writer's persistent quest to reinvent himself. Kristopher Jansma masterfully explores the ways in which we lie in order to
grasp the most inexplicable truths in art, life, and love. The protagonist is a trickster-artist and con artist alike; he is Houdini,Tom Ripley and Hemingway rolled into one. But despite his web of lies, we can't help but root for him all the way to the end. THE UNCHANGEABLE SPOTS OF LEOPARDS is a tour de force--a nest of Russian dolls, with stories within stories, each tale bringing us a little closer to some glimmer of the truth."
—Mira Bartok, author of The Memory Palace, winner of the National Book Critic's Circle Award

"Clever, smart and beautifully written, THE UNCHANGEABLE SPOTS OF LEOPARDS is not only a story about storytelling but also a true celebration of the art. At times hilarious and heart-wrenching, Jansma has managed to produce a mind-bending and utterly unforgettable book."
—Andrew Porter, author of The Theory of Light and Matter

"Serious fun. What romantic comedy used to be in the time of Shakespeare. Not a breath of fresh air, but a gale."
--Martin Cruz Smith, author of Three Stations
Viking Books, 9780670026005, 254pp.
Publication Date: March 21, 2013
About the Author
Kristopher Jansma is a lecturer at Manhattanville College and SUNY Purchase and writes a monthly column for Electric Literature s blog "The Outlet." He was selected as a finalist for "BOMB Magazine" s 2011 fiction contest, and his work has appeared in the "Blue Mesa Review." He lives with his wife in New York City."
Book Videos
or
Not Currently Available for Direct Purchase