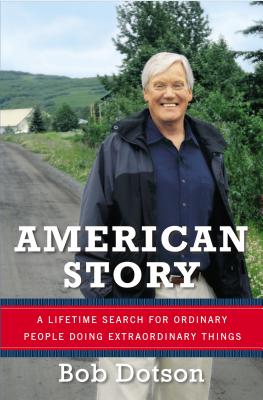 American Story: A Lifetime Search for Ordinary People Doing Extraordinary Things (Hardcover)
A Lifetime Search for Ordinary People Doing Extraordinary Things
Viking Books, 9780670026050, 256pp.
Publication Date: March 26, 2013
* Individual store prices may vary.
or
Not Currently Available for Direct Purchase
Description
The host of the NBC "Today Show"'s popular segment shares his favorite stories of citizens making a difference around the country
For the six million people who watch the Emmy Award winning American Story with Bob Dotson on NBC's "Today Show," Bob Dotson's reports celebrate the inspirational stories of everyday Americans. Dotson has been crisscrossing the country for more than forty years logging more than four million miles in search of people who have quietly but profoundly changed our lives and our country for the better. Now, in "American Story," he presents a road map to the unsung heroes with thoughtful solutions to problems we all face, incredible ideas that work, and blueprints to living our dreams.
*The boss who came out of retirement to start a new company for his former employees who could not find work
*The truck driver who taught microsurgery
*The man you ve never heard of who has 465 profitable patents, second only to Thomas Edison
*The doctor who developed the vaccine to prevent whooping cough, who didn t retire until age 104
In the tradition of Tom Brokaw's "New York Times" bestseller "The Time of Our Lives," "American Story" is a deeply moving and endlessly fascinating alternative narrative for everyone who yearns to feel good about America.
About the Author
Bob Dotson is an NBC News correspondent whose American Story with Bob Dotson is seen on the "Today Show" and other NBC News programs. He was also the writer and host of "Bob Dotson s America" on the Travel Channel. His work on American Story has received more than one hundred awards for broadcast journalism. He splits his time between New York City and Mystic, Connecticut."
Praise For American Story: A Lifetime Search for Ordinary People Doing Extraordinary Things…
"We've always known in our heart of hearts that the best of the country was bottom-up, not top-down, and now Bob Dotson, with this superb new book, proves us right.  These are remarkable and poignant and important stories that need to be told."
~Ken Burns
 
"Here's a great American storyteller who realizes he's met his match in the people he meets. Bob Dotson gives us a thoroughly intimate view of America... with the bark off. This is the unmistakable and sturdy America we know."
~Brian Williams
 
"Bob Dotson's stories take you on a journey to the places that live in your heart. His words, and the images he creates with them,  connect you to friends, family, and everyone who shares the DNA of being American."
~Matt Lauer
 
"Throughout his remarkable career Bob Dotson has searched for the real essence of America--not by interviewing the so-called famous, but by seeking out those unnoticed  people we pass by everyday. Those quiet souls are the ones who 'live up to the brag,' as he puts it, and remind us what truly makes this country great.  Every story they tell is a jewel...and Dotson a national treasure for caring enough to listen."
~Meredith Vieira
 
"Those of us who know and work with Bob Dotson stand in awe of his gifts as a writer. Like the work so many viewers have come to love on NBC, this collection of stories captivates and inspires."
~Savannah Guthrie
Advertisement