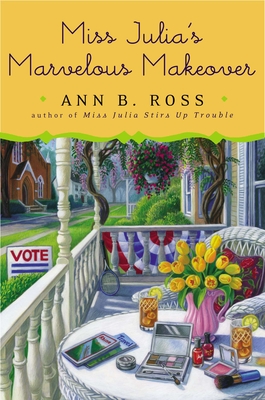 Miss Julia's Marvelous Makeover (Hardcover)
Viking, 9780670026111, 297pp.
Publication Date: April 8, 2014
Description
Yes, Miss Julia is back, and I, for one, am one happy camper. J. A. Jance
In the 15th installment of Ann B. Ross's bestselling series, Miss Julia must teach her cousin's granddaughter some manners--and remake a political campaign. Don't miss thenewest, Miss Julia Weathers The Storm, coming April 2017 from Viking.
Miss Julia's adoring fans sent this novel straight to the
New York Times
hardcover bestseller list. But everyone's favorite steel magnolia isn t one to rest on her laurels. It's summer in Abbotsville, and Miss Julia's cousin Elsie calls in an old family debt, asking Miss Julia to teach her granddaughter how to be a lady. When the rude and unkempt Trixie arrives, it's clear Miss Julia has her work cut out for her. Meanwhile, Sam's campaign for state senate is in trouble. Miss Julia enlists Lillian, Latisha, Lloyd, and Hazel Marie to whip Trixie and the campaign into shape
From the Trade Paperback edition.
About the Author
Ann B. Rossis the author of eighteen novels featuring the popular Southern heroine Miss Julia, as well asEtta Mae's Worst Bad-Luck Day, a novel about one of Abbotsville's other most outspoken residents: Etta Mae Wiggins.Ross holds a doctorate in English from the University of North Carolina at Chapel Hill, and has taught literature at the University of North Carolina at Asheville. She lives in Hendersonville, North Carolina."
Praise For Miss Julia's Marvelous Makeover…
Early Praise for Miss Julia's Marvelous Makeover:
***A Spring Okra Pick***
 
"Comforting [and] leisurely paced . . . Ross's great achievement is the creation of Abbotsville."
—Publishers Weekly
 
Praise for Ann Ross and the Miss Julia series:
 
"Ann B. Ross develops characters so expertly, through quirks, names, and mannerisms, that they easily feel familiar as the reader is gently immersed into the world Miss Ross has created . . . A delightful read."
—Winston-Salem Journal

"I absolutely loved this book! What a joy to read! Miss Julia is one of the most delightful characters to come along in years. Ann B. Ross has created what is sure to become a classic Southern comic novel. Hooray for Miss Julia, I could not have liked it more."
—Fannie Flagg

"Yes, Miss Julia is back, and I, for one, am one happy camper."
—J.A. Jance
Advertisement