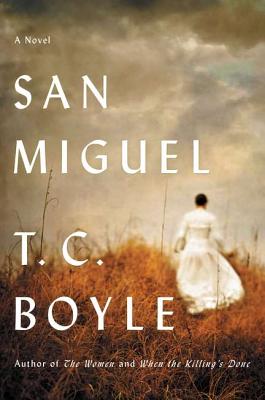 San Miguel (Hardcover)
Viking Books, 9780670026241, 384pp.
Publication Date: September 18, 2012
Other Editions of This Title:
Digital Audiobook (9/17/2012)
Paperback (9/24/2013)
Hardcover, Large Print (10/5/2012)
Paperback (1/1/2012)
* Individual store prices may vary.
Description
From the "New York Times" bestselling author of "The Women," a historical novel about three women's lives on a California island
On a tiny, desolate, windswept island off the coast of Southern California, two families, one in the 1880s and one in the 1930s, come to start new lives and pursue dreams of self-reliance and freedom. Their extraordinary stories, full of struggle and hope, are the subject of T. C. Boyle's haunting new novel.
Thirty-eight-year-old Marantha Waters arrives on San Miguel on New Year's Day 1888 to restore her failing health. Joined by her husband, a stubborn, driven Civil War veteran who will take over the operation of the sheep ranch on the island, Marantha strives to persevere in the face of the hardships, some anticipated and some not, of living in such brutal isolation. Two years later their adopted teenage daughter, Edith, an aspiring actress, will exploit every opportunity to escape the captivity her father has imposed on her. Time closes in on them all and as the new century approaches, the ranch stands untenanted. And then in March 1930, Elise Lester, a librarian from New York City, settles on San Miguel with her husband, Herbie, a World War I veteran full of manic energy. As the years go on they find a measure of fulfillment and serenity; Elise gives birth to two daughters, and the family even achieves a celebrity of sorts. But will the peace and beauty of the island see them through the impending war as it had seen them through the Depression?Rendered in Boyle's accomplished, assured voice, with great period detail and utterly memorable characters, this is a moving and dramatic work from one of America's most talented and inventive storytellers.
About the Author
T. C. Boyle is the author of thirteen novels, including "World s End," which won the 1987 PEN/Faulkner Award; "Drop City," which was a finalist for the National Book Award, and the "New York Times" bestseller "The Women." He has also published nine collections of stories and was the recipient of the prestigious PEN/Malmud Award for Excellence in the short story. His stories appear in "The New Yorker, GQ, Esquire, McSweeney s, " and" Playboy." A member of the American Academy of Arts and Letters, he lives in California."
Praise For San Miguel…
 
Praise for San Miguel

"An absorbing work of historical fiction based on the lives of two real families who resided on San Miguel island in the 19th and 20th centuries…the intensity of Boyle's narrative never lets it flag." –Ron Charles, The Washington Post
 
"A saga of women, three women brought to the island by men…Boyle has carved out a beautiful, damp, atmospheric novel, sharp and exacting…[his] spirited novels are a reckoning with consequence laced with humor, insight, and pathos." –Terry Tempest Williams, The San Francisco Chronicle
 
"Throughout his career, Boyle has shown a fascination with remote, forgotten places as a kind of stage where various shadings of the American character are revealed…As always, he fills his pages with wonderfully precise character studies and lush descriptions of the physical landscape."  –Hector Tobar, The Los Angeles Times
 
"The story of two families who lived on the windiest and wildest of the Channel Islands…the layering of these isolated lives, the archeology of human habitation, the different responses to self-sufficiency make this one of the most satisfying novels in Boyle's canon."  –Susan Salter Reynolds, Los Angeles Magazine 
"In T.C. Boyle's San Miguel, two strong women generations apart are seduced and mistreated by the same powerful entity – not a man but a starkly beautiful, barely inhabited island off the California coast…Boyle portrays the heartbreaking toll San Miguel takes on these couples in a novel as beguiling as the island itself." –O The Oprah Magazine

 "In his latest novel, this prolific man of letters focuses on one of his most engaging subjects: the inner lives of women…Boyle devotes meticulous attention to the unforgiving weather and the challenges of sheer survival, to the mute compromises of marriage and to the unspoken experience of all women who rage, endure, and prevail." –More Magazine

 "The pioneer mystique – its romance, and its disillusions – is the subject of T.C. Boyle's San Miguel, in which the promise of a natural paradise draws two adventure-seeking women to the remote Channel Islands, fifty years apart." –Vogue.com

"Boyle's epic saga of struggle, loss, and resilience tackles Pacific pioneer history with literary verve…[he] subtly interweaves the fates of Native Americans, Irish immigrants, Spanish and Italian migrant workers, and Chinese fisherman into the Waters' and Lesters' lives, but the novel is primarily a history of the land itself, unchanging despite its various visitors and residents, and as beautiful, imperfect, and unrelenting as Boyle's characters." – Publishers Weekly

 "A richly rewarding read…As ever, Boyle's prose is vivid and precise, and he imbues his subjects with wonderful complexity.  The perils and pleasures of island living, the limits to natural resources, and the echoes of war all provide ample grist for his mill." – ALA Booklist

 "The fourteenth novel from Boyle returns to the Channel Islands off the coast of California, a setting which served him so well in his previous novel…What may seem to some like paradise offers no happy endings in this fine novel." – Kirkus Reviews

or
Not Currently Available for Direct Purchase