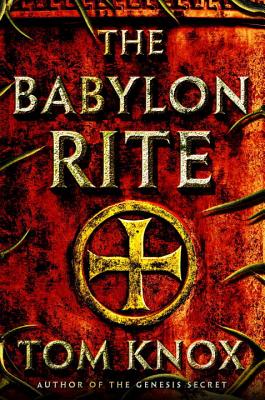 The Babylon Rite (Hardcover)
Viking Books, 9780670026647, 340pp.
Publication Date: May 2, 2013
Other Editions of This Title:
Digital Audiobook (6/6/2013)
Paperback (4/29/2014)
* Individual store prices may vary.
Description
From Templar Knights to Mexican drug cartels, Tom Knox returns with an electrifying new novel
Journalist Adam Blackwood is chasing down the story of a lifetime--the world's foremost Templar historian has committed suicide in Edinburgh, leaving behind a tantalizing clue about a secret object hidden in the famous chapel of Rosslyn that will connect to Templar sites throughout Europe, North Africa, and South America.
Meanwhile in Peru, anthropologist Jess Silverton is researching a bloodthirsty, sexually voracious ancient civilization that might have laid the foundations for both Judaism and Buddhism. Amid the turmoil of local gangs and corrupt drug corporations, she becomes entangled in a plot that spans continents and reaches across time. At the beating heart of the novel is a rare flower from the darkest regions of the Amazon that has the power to seduce and control all of mankind.
About the Author
Tom Knox is the internationally bestselling author of "The Lost Goddess," "Marks of Cain," and "The Genesis Secret," and is the pseudonym for English journalist and author Sean Thomas. He currently lives in London.
Praise For The Babylon Rite…
Praise for The Babylon Rite:

"Knox's greatest strength is coming up with original anthropological mysteries. Knox provides a surfeit of gruesome detail, but readers with strong stomachs... will be satisfied." –Publishers Weekly
 
"Knox weaves a compelling, violent tale, peppered with plenty of sex, that will appeal to ancient conspiracy fans comfortable with the graphic content." –Booklist
 
"Historical, adventure, and suspense fans unite! Any Da Vinci Code fan will also love the fact that the Knights Templar are once again being revisited, and their reputation is darker than ever before. And although there are horror scenes galore, the research is extremely invigorating and the mystery is beyond cool." –Amy Lignor, Suspense Magazine


Praise for The Lost Goddess:
 
"Mr. Knox's speculations are good ones, making you wonder what might really have been going on in dictators' secret laboratories." –The Wall Street Journal
 
""How terrific to find a new thriller in which the dramatic action emerges from an exemplary mix of first-rate research, interesting politics and credible characters!" –The Dallas Morning News
 
"A globetrotting adventure with shades of Dan Brown and Indiana Jones....A page-turner." -- Suspense Magazine
 
"Combines elements of the best of several genres, shakes them up, then lays them out in surprisingly original patterns.... Knox doles out enough tantalizing scientific, social, and spiritual lore to sate even the hungriest anthropological thriller reader." -- Publishers Weekly
 
Praise for The Marks of Cain:
 
"Tom Knox knows the DNA of an astonishing thriller." -- Jeff Abbott, bestselling author of Adrenaline and The Last Minute
 
"An intriguing, well-told story." – Booklist
 
Praise for The Genesis Secret:
 
"[The Genesis Secret] makes one want to tear through the pages to find out what happens next." –The Dallas Morning News
 
"Dan Brown's The Da Vinci Code brought on a flood of tomb-raiding thrillers. I enjoyed Tom Knox's The Genesis Secret best." –The Minnnesota Star-Tribune
 
"Sinister, macabre, relentless and rich...The ideal blend of both The Da Vinci Code and Raiders of the Lost Ark." –Bill Loehfelm, author of The Devil in Her Own Way
 
"Everything one could want in a thriller: a plot that keeps you hooked, heroes worth cheering for, and a brilliantly maintained air of menace." –Jon Fasman, author of The Geographer's Library and The Unpossessed City
or
Not Currently Available for Direct Purchase