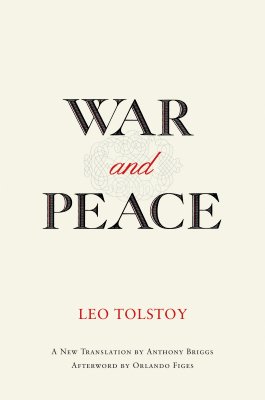 War and Peace (Hardcover)
Viking Adult, 9780670034697, 1424pp.
Publication Date: January 19, 2006
Other Editions of This Title:
Paperback (12/8/2016)
Paperback (12/8/2016)
Paperback (12/8/2014)
Hardcover (4/4/2018)
Paperback (12/11/2013)
Paperback (7/15/2013)
Hardcover (12/17/2009)
Paperback (4/4/2018)
Hardcover (5/12/2016)
Hardcover (8/11/2015)
Hardcover (12/4/2015)
Paperback (7/29/1982)
Hardcover (10/16/2007)
Hardcover, Korean (8/8/2008)
Hardcover, Korean (8/8/2008)
Paperback (6/1/2008)
Boxed Set (12/21/2010)
Paperback (5/31/2013)
* Individual store prices may vary.
Description
Widely considered the greatest novel ever written in any language, War and Peace has as its backdrop Napoleon's invasion of Russia and at its heart three of the most memorable characters in literature: Pierre Bezukhov, a quixotic young man in search of spiritual joy; Prince Andrey Bolkonsky, a cynical intellectual transformed by the suffering of war; and the bewitching and impulsive Natasha Rostov, daughter of a count. As they seek fulfillment, fall in love, make mistakes, and become scarred by battle in different ways, these characters and their stories interweave with those of a huge cast, from aristocrats to peasants, from soldiers to Napoleon himself.
In this first English translation in more than forty years, Anthony Briggs faithfully reveals Tolstoy's art in stirring prose, clearing up ambiguities that have plagued many modern translations. This volume also includes an afterword by eminent historian Orlando Figes, a list of characters, descriptions of the three main battles, chapter summaries, and notes. Both epic and intimate, a compassionate portrait of humanity and an engrossing read, this is the War and Peace of choice for a whole new generation.
About the Author
Count Leo Tolstoy was born on September 9, 1828, in Yasnaya Polyana, Russia. Orphaned at nine, he was brought up by an elderly aunt and educated by French tutors until he matriculated at Kazan University in 1844. In 1847, he gave up his studies and, after several aimless years, volunteered for military duty in the army, serving as a junior officer in the Crimean War before retiring in 1857. In 1862, Tolstoy married Sophie Behrs, a marriage that was to become, for him, bitterly unhappy. His diary, started in 1847, was used for self-study and self-criticism; it served as the source from which he drew much of the material that appeared not only in his great novels War and Peace (1869) and Anna Karenina (1877), but also in his shorter works. Seeking religious justification for his life, Tolstoy evolved a new Christianity based upon his own interpretation of the Gospels. Yasnaya Polyana became a mecca for his many converts At the age of eighty-two, while away from home, the writer suffered a break down in his health in Astapovo, Riazan, and he died there on November 20, 1910.

Anthony Briggs has written, translated, or edited twenty books in the fields of Russian and English literature.
or
Not Currently Available for Direct Purchase