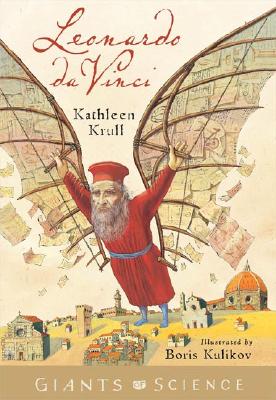 Leonardo Da Vinci (Hardcover)
Viking Books, 9780670059201, 124pp.
Publication Date: July 21, 2005
* Individual store prices may vary.
Description
For thirty years, the whole last half of his life, Leonardo da Vinci was obsessed with unlocking the secrets of nature. His notebooks are the mind-boggling evidence of a fifteenth-century scientist standing at the edge of the modern world, basing his ideas on observation and experimentation. Scrupulously researched, juicily anecdotal, this book will change children's ideas of who Leonardo was and what it means to be a scientist.
Award-winning biographer Kathleen Krull will focus on five other "giants of science" Isaac Newton, Charles Darwin, Marie Curie, Sigmund Freud, and Albert Einstein. Each book presents a compelling portrait of an individual as well as a picture of the world at a particular time and place.
Praise For Leonardo Da Vinci…
"With a totally captivating opening and a conversational writing style, Krull offers a vivid description of life in the Middle Ages: no printed books, no bathrooms, and a belief in magic. In a time when pig manure was used to cure nosebleeds, the dawning of the Renaissance would have been quite a contrast indeed. The book moves along at a steady clip and adds details to bring da Vinci and his times to life. The author discusses his lonely childhood, his insatiable curiosity and craving for knowledge, and how his illegitimate status affected his life. Most importantly, she shows the workings of a scientific mind and the close connection between science and art. Kulikov's stylish and exacting line drawings are engaging and incorporate many of the items and interests found in Leonardo's notebooks. Readers will come away from this accessible volume with an understanding of who Leonardo was and a desire to know more about this fascinating, brilliant man." -School Library Journal, starred review
or
Not Currently Available for Direct Purchase