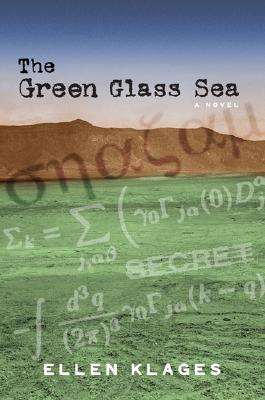 The Green Glass Sea
Hardcover

* Individual store prices may vary.
Other Editions of This Title:
Paperback (5/1/2008)
Prebound (5/1/2008)
Description
It is 1943, and 11-year-old Dewey Kerrigan is traveling west on a train to live with her scientist father but no one, not her father nor the military guardians who accompany her, will tell her exactly where he is. When she reaches Los Alamos, New Mexico, she learns why: he's working on a top secret government program. Over the next few years, Dewey gets to know eminent scientists, starts tinkering with her own mechanical projects, becomes friends with a budding artist who is as much of a misfit as she is and, all the while, has no idea how the Manhattan Project is about to change the world. This book's fresh prose and fascinating subject are like nothing you've read before.
Praise For The Green Glass Sea…
"Klages makes an impressive debut with an ambitious, meticulously researched novel set during WWII. Writing from the points of view of two displaced children, she successfully recreates life at Los Alamos Camp, where scientists and mathematicians converge with their families to construct and test the first nuclear bomb."—Publishers Weekly, starred review

"Dewey, ten, embarks alone on a mysterious train trip from her grandmother's home in St. Louis to New Mexico, where she will rejoin her often-absent mathematician father. It's 1943, and Dewey's dad is working at Los Alamos -- "the Hill" -- with hundreds of other scientists and their families. Klages evokes both the big-sky landscape of the Southwest and a community where "everything is secret" with inviting ease and the right details, focusing particularly on the society of the children who live there. Dewey seems comfortable with her own oddness (she's small for her age, slightly lame, and loves inventing mechanical gizmos) and serves as something of an example to another girl, Suze, who has been trying desperately to fit in. Their burgeoning friendship sees them through bouts of taunting, their parents' ceaseless attention to "the gadget," personal tragedy, and of course the test detonation early on July 16, 1945, which the two girls watch from a mesa two hundred miles away: "Dewey could see the colors and patterns of blankets and shirts that had been indistinct grays a second before, as if it were instantly morning, as if the sun had risen in the south, just this once." Cameo appearances are made by such famous names as Richard Feynman (he helps Dewey build a radio) and Robert Oppenheimer, but the story, an intense but accessible page-turner, firmly belongs to the girls and their families; history and story are drawn together with confidence." -The Horn Book Magazine, starred review
Viking Books, 9780670061341, 321pp.
Publication Date: October 19, 2006
About the Author
Ellen Klages was born a in Columbus, Ohio. She graduated from the University of Michigan with a degree in Philosophy. It teaches you to ask questions and think logically, which are useful skills for just about any job. she says. But when I looked in the Want Ads under P, no philosophers. I ve been a pinball mechanic, a photographer, and done paste-up for a printer. I ve lived in San Francisco most of my adult life. The city wears its past in layers, glimpses of other eras visible on every street. I love to look through old newspapers and photos, trying to piece together its stories. I was at the Exploratorium, a hands-on science museum, working as proofreader, when they were looking for a science writer to do a children s science activity book. No science background, but I convinced my boss that in order to translate from a PhD physicist, I had to ask lots of questions, just like a curious kid. I got the job. My desk was covered with baking soda, Elmer s glue, balloons, soap bubbles, and dozens of other common objects that became experiments, and the office echoed with the Science-at-Home team saying, Wow! Look at this! My co-writer, Pat Murphy, a science-fiction author, encouraged me to write stories of my own. I ve now sold more than a dozen. Basement Magic, a fairy tale set at the beginning of the Space Age, won the Nebula Award in 2005.The Green Glass Sea is not science fiction, but it is fiction about science. And history and curiosity. Ellen Klages lives in San Francisco. The Green Glass Sea is her first novel. "
or
Not Currently Available for Direct Purchase