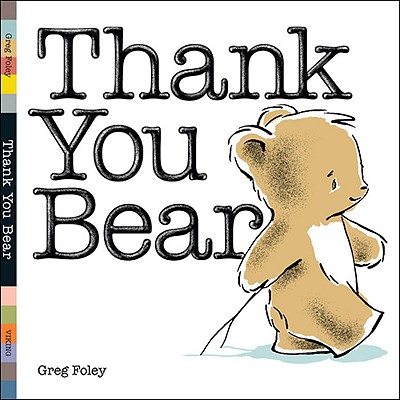 Thank You Bear (Hardcover)
Viking Books, 9780670061655, 26pp.
Publication Date: March 15, 2007
Description
Early one morning, a little bear found a little box.
He looked inside. Then he exclaimed,
Why, it's the greatest thing ever Mouse will love this.
Bear's friends aren t so sure of his newfound treasure, however. That's not so great, says Monkey. I ve seen those before, says Owl. And by the time Bear finds Mouse, his own doubts have grown. But Mouse has the last say when he looks inside the little box. It is the greatest thing ever, he tells his friend. Thank you, Bear.
Part mystery, part fable, this deceptively simple story of true friendship is perfect for the very youngest reader. It is sure to tug at your heart.

Good Luck Bear is the 2008 winner of the Charlotte Zolotow Award.
About the Author
Greg Foley is the creative director at Visionaire and V magazine. He lives in New York City.
Praise For Thank You Bear…
"Young listeners, particularly those who understand the value of leaves and stones and bottle caps, will love this book. They will hope that Bear will remain steadfast and trust in Mouse, who rewards Bear's thoughtfulness with the gratitude of a true friend. Absolutely charming."-School Library Journal, starred review

"In this gentle fable, a wide-eyed bear cub finds that one fellow's throwaway item can be another fellow's treasure."-Parenting Magazine

"Little ones will undoubtedly be able to identify with Bear's emotions as they watch him move from benevolent joy to uncertainty and doubt and then to gleeful satisfaction. Watercolor animal figures, outlined in strong black lines and set mostly against a white background, distinctly convey the dénouement. Halfway through the story, Foley's use of a single darker brown background effectively portrays Bear's declining mood and doubt. A smooth union of words and art to illustrate an important message."-Kirkus Reviews

"Foley, making his children's book debut, is an award-winning graphic designer and the creative director for the hipster-fashionista bibles Visionaire, V and VMan. His simple story concerns "a little bear (who) found a little box." The cub thinks it is "the greatest thing ever!" But on his way to presenting the box to his friend Mouse, the furry hero meets up with naysayers whose discouragement ranges from "I've seen those before" (an owl) to "You're holding it the wrong way" (a fox). But Mouse looks at the box "this way and that," and agrees with his pal's original rave, to the letter. Mouse gratefully makes the box his new home (hence, the title). Foley combines an energetic ink line with pleasingly off-register washes of muted color, giving his pages a handsome, retro look. He strips down the story and the illustrations to their essence, allowing toddlers to place themselves in the cub's position, and rejoice when his best friends appreciates his gift- a box just right for Mouse to make his own."-Publishers Weekly

Good Luck Bear is the 2008 winner of the Charlotte Zolotow Award.
Advertisement