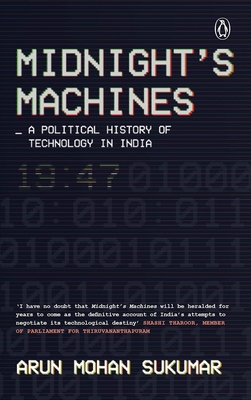 Midnight's Machines
Hardcover

* Individual store prices may vary.
Description
But a lesser-known political project began on 15 August 1947: the Indian state's undertaking to influence what the citizens thought about technology and its place in society. Beneath its soaring rhetoric on the virtues or vices of technology, the state buried a grim reality: India's inability to develop it at home. The political class sent contradictory signals to the general public. On the one hand, they were asked to develop a scientific temper, on the other, to be wary of becoming enslaved to technology; to be thrilled by the spectacle of a space launch while embracing jugaad, frugal innovation, and the art of 'thinking small'. To mask its failure at building computers, the Indian state decried them in the seventies as expensive, job-guzzling machines. When it urged citizens to welcome them the next decade, the government was, unsurprisingly, met with fierce resistance. From Jawaharlal Nehru to Narendra Modi, India's political leadership has tried its best to modernize the nation through technology, but on its own terms and with little success.
In this engaging and panoramic history spanning the arc of modern India from the post-War years to present day, Arun Mohan Sukumar gives us the long view with a reasoned, occasionally provocative standpoint, using a lens that's wide enough for the frame it encompasses. With compelling arguments drawn from archival public records and open-source reportage, he unearths the reasons why India embraced or rejected new technologies, giving us a new way to understand and appreciate the individual moments that brought the country into the twenty-first century.
India Viking, 9780670091096, 272pp.
Publication Date: November 1, 2019
About the Author
Arun Mohan Sukumar is a PhD candidate at the Fletcher School, Tufts University, and a junior fellow at the school's Centre for International Law and Governance. He heads the Technology Initiative at the Observer Research Foundation, New Delhi.
or
Not Currently Available for Direct Purchase