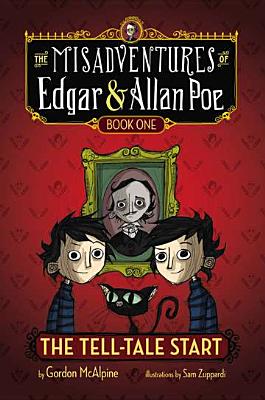 The Tell-Tale Start (Hardcover)
Viking Children's Books, 9780670784912, 178pp.
Publication Date: January 10, 2013
Description
Meet Edgar and Allan Poe -- twelve-year-old identical twins, the great-great-great-great-grandnephews of Edgar Allan Poe. They look and act so much alike that they're almost one mischievous, prank-playing boy in two bodies.When theirbelovedblack cat, Roderick Usher, is kidnapped and transported to the Midwest, Edgar and Allan convincetheir guardians that it's time for a road trip. Along the way, mayhem and mystery ensue, as well asdeeper questions: What is the boys' telepathic connection? Is Edgar Allan Poe himself reaching out to them from the Great Beyond? And why has a mad scientist been spying on the Poe family for years?
With amix of literary humor, mystery, a little quantum physics, and fun extras likefortune cookie messages, letters in code, license plate clues --andplayful illustrations thoughout --this series opener is a perfect choice for smart, funny tweens who lovethe Time Warp Trio, Roald Dahl, and Lemony Snicket.
About the Author
Gordon McAlpine is the author of adult novels ranging from magical realism to hardboiled literary mystery. This is his first work for younger readers. He lives with his wife in Southern California. His Web site is www.gordonmcalpine.net.

Sam Zuppardi used to draw pictures at school when he was supposed to be doing work. In fact, he still draws pictures, though he is no longer at school. At the moment he lives in York, England which is a very picturesque city and particularly good for ghost walks. Sam likes a good ghost walk. Visit his Web site at www.samzuppardi.com"
Advertisement