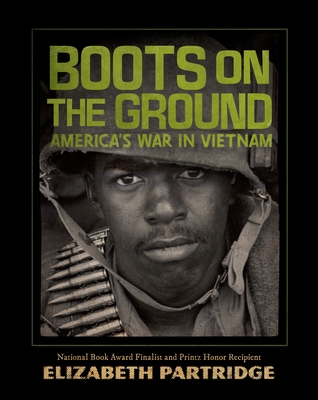 Boots on the Ground
America's War in Vietnam
Hardcover

* Individual store prices may vary.
Other Editions of This Title:
Digital Audiobook (4/9/2018)
Description
★ "Partridge proves once again that nonfiction can be every bit as dramatic as the best fiction."*

America's war in Vietnam. In over a decade of bitter fighting, it claimed the lives of more than 58,000 American soldiers and beleaguered four US presidents. More than forty years after America left Vietnam in defeat in 1975, the war remains controversial and divisive both in the United States and abroad.

The history of this era is complex; the cultural impact extraordinary. But it's the personal stories of eight people—six American soldiers, one American military nurse, and one Vietnamese refugee—that create the heartbeat of Boots on the Ground. From dense jungles and terrifying firefights to chaotic helicopter rescues and harrowing escapes, each individual experience reveals a different facet of the war and moves us forward in time. Alternating with these chapters are profiles of key American leaders and events, reminding us of all that was happening at home during the war, including peace protests, presidential scandals, and veterans' struggles to acclimate to life after Vietnam.

With more than one hundred photographs, award-winning author Elizabeth Partridge's unflinching book captures the intensity, frustration, and lasting impacts of one of the most tumultuous periods of American history.

*Kirkus Reviews, starred review of Marching for Freedom 
Praise For Boots on the Ground: America's War in Vietnam…
Praise for Boots on the Ground by Elizabeth Partridge:


★ "This indispensable volume brings a wise and humane lens to a confused and brutal conflict." —Horn Book, starred review 

★ "A necessary, conscientious look at a factious time in American and world history."
—Booklist, starred review 

★ "A personal, moving foray into the Vietnam War and its impact...Partridge's narrative storytelling is incisive and masterfully woven together." – Kirkus, starred review

★ "What makes the book powerful beyond the historical facts, though, is how the war irrefutably changed the people who were there." –School Library Journal, starred review 

★ "The tandem placement of well-written textbook-style information with soul-searing personal dramas makes this compulsively readable while putting events and terms often encountered episodically into context." –BCCB, starred review  

★ "Skillfully interweaving original interviews and black-and-white photos with narrative, Partridge evokes the political controversy and intense emotions." –Publishers Weekly, starred review 


Praise for Marching for Freedom by Elizabeth Partridge:

"Elizabeth Partridge takes the path off its pedestal and shows how ordinary people, children among them, can sometimes tip the balance and help determine the outcome of events. . . . Drawing on archival photographs and interviews with marchers who were as young as 10 at the time, Partridge swiftly sets the stage for the political war of nerves that culminated in the walk from Selma to Montgomery." —The New York Times Book Review

★ "Effective and meaningful archival photographs, quotes, poems, and songs are woven throughout the narrative, giving readers a real sense of the children's mindset and experiences."
—School Library Journal, starred review 

★ "A perfect balance of energetic prose and well-selected, breath-taking photographs." —Kirkus Reviews, starred review

★ "A sharply focused historical narrative for a younger audience. . . . Partridge once again demonstrates why she is almost peerless in her photo selection." —The Horn Book, starred review

★ "The vivid text is filled with quotes collected from Partridge's personal interviews. . . . Every spread brings readers up close to the dramatic, often violent action." —Booklist, starred review

★ "A dramatic and a memorable statement." —VOYA, starred review
Viking Books for Young Readers, 9780670785063
Publication Date: April 10, 2018
About the Author
Elizabeth Partridge is a National Book Award finalist, Printz Honor winner, and author of several nonfiction books for children, including Restless Spirit: The Life and Work of Dorothea Lange;This Land Was Made for You and Me: The Life and Songs of Woody Guthrie; John Lennon: All I Want is the Truth; and Marching for Freedom: Walk Together, Children, and Don't You Grow Weary. She lives in the San Francisco Bay area.