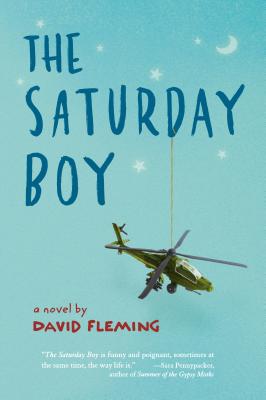 Saturday Boy (Hardcover)
Viking Books for Young Readers, 9780670785513, 272pp.
Publication Date: June 13, 2013
* Individual store prices may vary.
Description
If there's one thing I've learned from comic books, it's that everybody has a weakness—something that can totally ruin their day without fail.

For the wolfman it's a silver bullet. For Superman it's Kryptonite. For me it was a letter.

With one letter, my dad was sent back to Afghanistan to fly Apache helicopters for the U.S. army.

Now all I have are his letters. Ninety-one of them to be exact. I keep them in his old plastic lunchbox—the one with the cool black car on it that says Knight Rider underneath. Apart from my comic books, Dad's letters are the only things I read more than once. I know which ones to read when I'm down and need a pick-me-up. I know which ones will make me feel like I can conquer the world. I also know exactly where to go when I forget Mom's birthday. No matter what, each letter always says exactly what I need to hear. But what I want to hear the most is that my dad is coming home.
About the Author
David Fleming lives in the woods in Weston, Massachusetts, with his wife and two willful, boisterous sons. He graduated from Wheaton College with a degree in English dramatic literature and theater and now works for a landscape designer. When the ground is frozen, he writes. He has been published in Monkeybicycle, Stuff Magazine, and Wellesley/Weston Magazine and at beattoapulp.com. The Saturday Boy is his first novel.
Praise For Saturday Boy…
Praise for THE SATURDAY BOY by David Fleming:
"The Saturday Boy is funny and poignant, sometimes at the same time, the way life is." —Sara Pennypacker, New York Times Bestselling author of the Clementine series and Summer of the Gypsy Moths
"Fleming reminds us of the immeasurable value of a handwritten letter, how this tangible connection becomes something we can hang on to, for as long as we need it." —Suzanne LaFleur, author of Love, Aubrey and Eight Keys
"Debut novelist Fleming ably limns Derek's manic, Joey Pigza–styled interior life with a light hand, capturing the humorous aspects of the boy's self-perpetuating problems." —BCCB, starred review 
"[A] tender portrait of a boy under stress."  —Kirkus Reviews
"Fleming has done a superb job of not only making the characters believable, but also of keeping an underlying tension in the story. Children with parents who are deployed will find a kindred soul in Derek, and other readers will come to better understand what it's like for them." —School Library Journal
"Fleming's debut skillfully depicts how the stresses of loss and other forces beyond one's control test the bonds of family and friends." —Publishers Weekly 

"...children whose lives are similar to Derek's will identify with the confusion and isolation of war and find a comrade here." —Horn Book