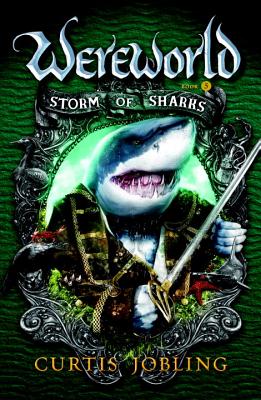 Storm of Sharks (Wereworld #5) (Hardcover)
Viking Books for Young Readers, 9780670785582, 480pp.
Publication Date: May 21, 2013
* Individual store prices may vary.
Description
The epic Wereworld saga continues as Drew Ferran—werewolf, leader of people, and the rightful king of Lyssia—battles the evil Catlords who seek to oppress the kingdom. As the war's scope widens, Drew and his allies take the fight to the high seas. But just as many terrors await them on the water as on land, with pirates and scoundrels abounding and a host of previously-unknown werelords emerging to take sides in the war that threatens to destroy the Seven Realms. Called "Game of Thrones for the tween set," (School Library Journal), the Wereworld series hits a new high in this fifth book!
About the Author
Curtis Jobling (www.curtisjobling.com and www.badablingthing.com) is the author of the Wereworld series. He's also known for being the designer of the BAFTA-winning BBC show Bob the Builder. His early work in animation included model and puppet painting on Wallace & Gromit's A Close Shave and Tim Burton's Mars Attacks! He's also the creator/director/producer of Nickelodeon's Curious Cow animated shorts and the author and illustrator of several picture books.
Praise For Storm of Sharks (Wereworld #5)…
Praise for the Wereworld series by Curtis Jobling:
Rise of the Wolf
"Jobling's debut initiates a sure-to-be-long series of Wereworld tales, pure fantasy adventure with plenty of horror in the mix…this will find broad appeal among lovers of adventure fantasy, especially those mourning the end of John Flanagan's Ranger's Apprentice."—Kirkus Reviews

"[A] rousingly gory heroic fantasy…there are plenty of brutal fights for action lovers, and the quest has some stirring moments. Give this series opener to fans of Flanagan's Ranger's Apprentice series."—Booklist

"In this thrilling middle-grade debut, first in the Wereworld series, British author/illustrator Jobling (the designer of the Bob the Builder TV series) creates a memorable new setting in which were-creatures rule…a thoroughly enjoyable adventure that makes particularly inventive use of its shape-shifter elements and mythology."—Publishers Weekly (starred review)

"Even reluctant readers should enjoy Wereworld as the first in a new series…as a fantasy world it is superior to Eragon, and pure fun."—The Times (London)

"The nail-biting pace and plot turns will keep the reader wondering exactly how Drew will resolve it all…there is enough romantic heat, girl power, and vulnerable tough guys to guarantee interest from the Twilight crowd."—BCCB

"This first book in the series hits all the bases for a fairy tale with fangs…this will be a popular book, particularly for the young sword and sorcery fan contingent."—Library Media Connections

"Assured and lively enough to captivate with its strong world building and approachable language…will draw followers to the sequel like Drew to a damsel in distress."—VOYA

"Can he write it?  Yes, he can!...a good mix of the traditional pre-industrial society with shape-shifters, and looks like it could be the start of a very fun ride."—Geek Dad on Wired.com

Rage of Lions
"Give Jobling a… hand for crafting a sequel that's even more lurid and action packed than the opener."—Kirkus Reviews

"Game of Thrones for the tween set..."—School Library Journal

Shadow of the Hawk
"Plotlines and were-creatures proliferate …there's enough spilled blood and shape changing here to appease the most demanding fans of either."—Booklist