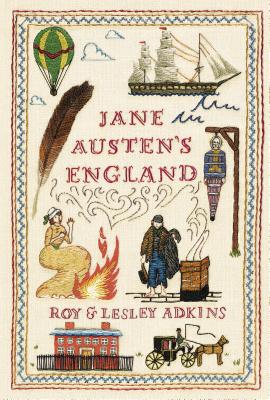 Jane Austen's England (Hardcover)
Viking Books, 9780670785841, 422pp.
Publication Date: August 15, 2013
Other Editions of This Title:
Paperback (7/29/2014)
* Individual store prices may vary.
Description
A cultural snapshot of everyday life in the world of Jane Austen
Jane Austen, arguably the greatest novelist of the English language, wrote brilliantly about the gentry and aristocracy of two centuries ago in her accounts of young women looking for love. "Jane Austen's England" explores the customs and culture of the real England of her everyday existence depicted in her classic novels as well as those by Byron, Keats, and Shelley. Drawing upon a rich array of contemporary sources, including many previously unpublished manuscripts, diaries, and personal letters, Roy and Lesley Adkins vividly portray the daily lives of ordinary people, discussing topics as diverse as birth, marriage, religion, sexual practices, hygiene, highwaymen, and superstitions.
From chores like fetching water to healing with medicinal leeches, from selling wives in the marketplace to buying smuggled gin, from the hardships faced by young boys and girls in the mines to the familiar sight of corpses swinging on gibbets, "Jane Austen's England "offers an authoritative and gripping account that is sometimes humorous, often shocking, but always entertaining.
About the Author
Lesley and Roy Adkins are authors of eighteen widely acclaimed books on social history, naval history, and archaeology, including the bestselling "Nelson s Trafalgar" and "The War for All the Oceans." Their books have been translated into sixteen languages worldwide. They live near Exeter in Devon."
Praise For Jane Austen's England…
"This is … a lively and impressionistic guide to the age, enjoyable for those entirely new to the subject, but also for the better informed, who will not only discover new facts in its wealth of material, but appreciate the immediacy and flavour of its eye-witness accounts."
~Rosemary Goring, Sunday Herald

"In reconstructing the lives of ordinary people in Georgian England, Roy and Lesley Adkins vividly evoke the ways in which wealth and poverty coexisted … This excellent book reminds us that Georgian England was as remote and alien to a modern sensibility as the Roman Empire."
~Nick Rennison, Sunday Times

"A comprehensive survey of daily life in the time of Jane Austen, full of nuggets of surprising information ... a fine book for browsing."
~Peter Lewis, Daily Mail

"A fascinating read, incredibly well researched ... what stands out for me is the style in which it is written: when I had finished reading it, I kept dipping back into it!"
~Sam Simmons, Folklife Quarterly

"A brilliant chronicle of the period ... Start to finish, this is an authoritative and entertaining sketch of life during Jane Austen's time, to be savored again and again."
~George Jepson, Quarterdeck
 
"[An] enjoyable history."
~The New Yorker

"In the end, readers will probably do much better [in reading about Jane Austen's life] with Jane Austen's England by Roy and Lesley Adkins … a fascinating look at all sorts of social history stuff."
~George Fetherling, The Vancouver Sun
 
"As this immensely useful and informative book makes clear, Regency England was no laughing matter."
~Jonathan Yardley, Washington Post

"The authors provide a fascinating view of daily life in Britain during the late Georgian and Regency eras ... an excellent read, with each chapter offering a treasury of insights into the lives of Austen's contemporaries, both rich and poor."
~Carmela Ciuraru, USA Today
 
"Jane Austen's England paints a marvelous, comprehensive tapestry of daily life in Regency England ... a delightfully readable narrative, with many references to Austen's own life and novels that genuinely illuminate her stories. This is a wonderful companion book for anyone who fancies themselves a fan of Jane Austen or the Regency era."
~Dana L. Huntley, British Heritage
 
"This encyclopedic and entertaining volume will suit readers who daydream about going back in time to walk alongside literary figures such as Austen ... While familiarity with her work will surely enhance reader delight, knowledge of the primary sources isn't necessary ... readers will appreciate its exciting sweep."
~Publishers Weekly

"For fans of Austen and English history, a deeply informative picture of Regency life."
~Kirkus Reviews

"This is fascinating reading for any classical fiction or history enthusiast. And for Janeites? It's an essential guide to getting your Austenian life accurate to the last detail."
~Kate Hutchings, Huffington Post

"Here, we are at the heart of what drives Austen's characters, what preoccupies their minds and what must have preoccupied the mind of Austen and her sister Cassandra."
~Katie Baker, Daily Beast

"A fascinating insight into a long gone world."
~Jad Adams, Who Do You Think You Are?

'Roy and Lesley Adkins vividly portray fascinating aspects of the daily lives of ordinary people in Georgian England. The book is eminently readable from cover to cover, or can be dipped into from time to time'
~Julian Stockwin
or
Not Currently Available for Direct Purchase