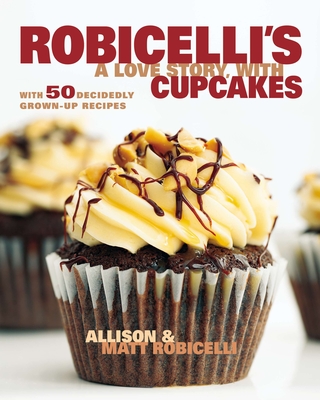 Robicelli's a Love Story, with Cupcakes
With 50 Decidedly Grown-Up Recipes
Hardcover

* Individual store prices may vary.
Description
The ultimate guide to gourmet cupcakes, featuring grown-up flavors (figs! whiskey! fried chicken!) and the delicious story of a family saved by a love of sweets
No food coloring. No fondant. No red velvet. Upscale bakery Robicelli's has become a buzzed-about, in-demand purveyor of decidedly adult cupcakes. Nixing cutesy, pastel-colored dollops of fluff for real ingredients and rich French buttercreams, the husband and wife team have reinvented the cupcake craze for a more sophisticated palate, making each a small piece of the greatest cake ever made. Now their extraordinary recipes are available to the home cook. 
Now their extraordinary recipes are available to the home cook, including:
The Laurenzano (fresh fig cake topped with goat cheese buttercream, fig balsamic gastrique, and crisp prosciutto flakes)
The Brooklyn Blackout Cake (chocolate cake with chocolate custard buttercream, dipped in homemade fudge and rolled in chocolate cake crumbs)
This book captures not only the Robicelli's unique take on baking but also their edgy, unapologetically hilarious take on life, including how they survived severe economic setbacks to launch the country's hottest cupcake brand— a venture begun with thirty dollars in borrowed quarters. 
Offering both cupcake recipes and a recipe for life that calls for a stash of "emergency cake,"
Robicelli's: A Love Story, with Cupcakes
is a baking book like you've never seen before.
Praise For Robicelli's a Love Story, with Cupcakes: With 50 Decidedly Grown-Up Recipes…
"Delicious, decadent, and velvety smooth, the Robicelli's famous French buttercream recipe alone is worth the price of this book. Such wonderful recipes! And James Joyce's Ulysses stream of conscious has nothing on Allison's stream of Brooklyn. You will laugh-out-loud and ache in pain through the love and struggles of these two great creative pastry chefs. You have to get this book."
—Shirley O. Corriher, author of CookWise and BakeWise
 
"You need this book because it's freaking hysterical. A serious cookbook that doesn't take itself so seriously. It's absolutely genius."
—Johnny Iuzzini, James Beard Award-winning pastry chef and author of Dessert Fourplay
 
"This book is truly one-of-a-kind! No one until now has had the 'balls' (as Allison might say) to write a book like this. And I am so happy the Robicellis did."
—Amanda Freitag, chef and TV personality
 
"The Robicellis are a living legend and their baked creations are nothing short of mystical." 
—Cathy Erway, author of The Art of Eating In
 
"If you think all cupcakes are the same and nothing special, you haven't tried Robicelli's. This book is a beautiful and witty love story filled with passion and amazingly delicious recipes."
—Fany Gerson, author of My Sweet Mexico
 
"This is the book for when you need to impress diplomats, TV chefs and future in-laws. Plus you learn how to make the fancy French buttercream that really pisses off other adults at your kid's party."
—Siobhan Wallace, author of New York a La Cart
 
"Bonnie and Clyde had bullets; Allison and Matt have cupcakes. That's the major difference between two otherwise old-fashioned love stories."
—Doug Quint, owner of Big Gay Ice Cream
 
"This cookbook is tender like fried chicken, sweet like buttercream, and salty like caramel sauce. It does not pussyfoot around. You will never make a better cupcake in your life— take THAT, elementary-school bake-sale suckas!"
—Liz Gutman, author of The Liddabit Sweets Candy Cookbook

2014 Food 52 'The Piglet' Awards Finalist

First We Feast Best New Food Books of 2013

Gluten-Free Girl's Favorite Cookbooks of 2013

 

"Laugh out loud funny."-- The New York Times

"The funniest blogger in the Brooklyn food scene." --Scoutmob

"Best cupcakes in NYC— seriously." --Edible Brooklyn
Avery, 9780670785872, 320pp.
Publication Date: October 17, 2013
About the Author
Born and raised in Brooklyn, Allison and Matt Robicelli co-own the acclaimed wholesale bakery Robicelli's. Matt was a FDNY paramedic before sustaining injury in 9/11. He then graduated from the French Culinary Institute with honors and has served as executive pastry chef at numerous top restaurants, including Lutèce. A former caterer, line cook and pastry chef, Allison is also a humorist whose writing has appeared on Nona Brookyn, Eater, Brokelyn, and Medium, as well as on the official Robicellis.com blog, and is the creator of Nutellasagna. They both still reside in the neighborhood where they grew up— Bay Ridge, Brooklyn.
or
Not Currently Available for Direct Purchase