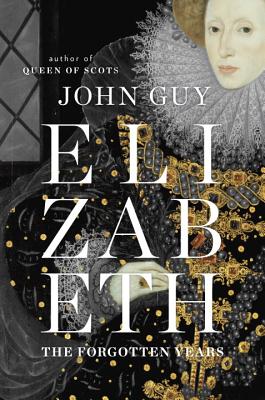 Elizabeth (Hardcover)
The Forgotten Years
Viking, 9780670786022, 512pp.
Publication Date: May 3, 2016
Other Editions of This Title:
Digital Audiobook (5/23/2016)
Paperback (3/7/2017)
* Individual store prices may vary.
Description
COSTA AWARD FINALIST 
ECONOMIST BOOK OF THE YEAR 
FINANCIAL TIMES BOOK OF THE YEAR

 Film rights acquired by Gold Circle Films, the team behind My Big Fat Greek Wedding

"A fresh, thrilling portrait… Guy's Elizabeth is deliciously human."
–Stacy Schiff, The New York Times Book Review

A groundbreaking reconsideration of our favorite Tudor queen, Elizabeth is an intimate and surprising biography that shows her at the height of her power.

Elizabeth was crowned queen at twenty-five, but it was only when she reached fifty and all hopes of a royal marriage were behind her that she began to wield power in her own right. For twenty-five years she had struggled to assert her authority over advisers, who pressed her to marry and settle the succession; now, she was determined not only to reign but to rule. In this magisterial biography, John Guy introduces us to a woman who is refreshingly unfamiliar: at once powerful and vulnerable, willful and afraid. We see her confronting challenges at home and abroad: war against France and Spain, revolt in Ireland, an economic crisis that triggers riots in the streets of London, and a conspiracy to place her cousin Mary Queen of Scots on her throne. For a while she is smitten by a much younger man, but can she allow herself to act on that passion and still keep her throne?
 
For the better part of a decade John Guy mined long-overlooked archives, scouring handwritten letters and court documents to sweep away myths and rumors. This prodigious historical detective work has enabled him to reveal, for the first time, the woman behind the polished veneer: determined, prone to fits of jealous rage, wracked by insecurity, often too anxious to sleep alone. At last we hear her in her own voice expressing her own distinctive and surprisingly resonant concerns. Guy writes like a dream, and this combination of groundbreaking research and propulsive narrative puts him in a class of his own.

"Significant, forensic and myth-busting, John Guy inspires total confidence in a narrative which is at once pacey and rich in detail." 
-- Anna Whitelock, TLS
 
"Most historians focus on the early decades, with Elizabeth's last years acting as a postscript to the beheading of Mary Queen of Scots and the defeat of the Spanish Armada. Guy argues that this period is crucial to understanding a more human side of the smart redhead." – The Economist, Book of the Year
About the Author
 John Guy is an award-winning historian of Tudor England. A Fellow of Clare College, Cambridge, he is the author of Queen of Scots: The True Life of Mary Stuart, a major international bestseller that won  the Whitbread Award and the Marsh Biography Award and was a National Book Critics Circle Award finalist. His other books include A Daughter's Love: Thomas More and His Dearest Meg; Thomas Becket: Warrior, Priest, Rebel; the biography of Henry VIII for the Penguin Monarchs series and a landmark, bestselling history of Tudor England.
Praise For Elizabeth: The Forgotten Years…
"A fresh, thrilling portrait… Guy's Elizabeth is deliciously human." 
–Stacy Schiff, The New York Times Book Review

"A superb book. . . Guy persuades us that pretty much everything we think we know about Elizabeth is wrong. . .  Considering that she was a Protestant in a Catholic-dominated Europe, a woman in a male-dominated world, the daughter of one parent who had been executed by the other. . . [she] should be seen as the most remarkable individual to have worn a European crown between Charlemagne and Napoleon."
–Andrew Roberts, The Wall Street Journal

"Guy is a master of the early modern archive: few historians are better equipped to navigate the tangled skein of Elizabethan records. . . .his careful work with documents known and unknown, scattered throughout Europe's archives, allows him to paint a novel portrait of a complex—maybe even unknowable—queen."
  --The Guardian 

"[A] fresh, illuminating portrait of one of England's greatest monarchs…Guy uses Elizabeth's handwritten letters and other rarely exploited primary sources to impressive effect."
–The Financial Times

"An illuminating study of England's most revered monarch. Guy, a leading authority on the Tudor period, uses Elizabeth's handwritten letters and other rarely exploited primary sources to impressive effect."
– Financial Times, Best Book of the Year

"Significant, forensic and myth-busting, John Guy inspires total confidence in a narrative which is at once pacey and rich in detail."
-- Anna Whitelock, TLS

"John Guy's Elizabeth presents a beautifully rounded portrait of both the woman and the queen. Thanks to Guy's prodigious use of previously untapped material, we see, for the very first time, the full panoply of ambition and insecurity, plotting and deceit that marked the middle years of her reign. This is a masterful biography." 
– Amanda Foreman, author of Georgiana: Duchess of Devonshire

"A gripping story of Queen Elizabeth's last years, authoritatively researched and engaging recounted by the leading Tudor historian of our age."
–James Shapiro, author of  The Year of Lear 

"This is a very good read, a vivid and fascinating warts-and-all portrait of the ageing Elizabeth, backed by meticulous research."
--Claire Tomalin, author of Jane Austen

"Magisterial... the definitive account of that era for the present generation"
-Country Life

"Outstanding. . . This page-turning book is history, biography, scholarship personified, and a crystal-clear look at Elizabeth in the war years that erases the myths and presents the real woman. Absolutely one of the best biographies of Elizabeth ever." 
–Kirkus Reviews (Starred review)

"Guy gives readers a fuller view of the confident, experienced, and adaptable queen whose long, eventful reign--one sprinkled with "Kafkaesque elements"--continues to fascinate."
–Publisher's Weekly

"Meticulously researched and highly readable. . . Readers will be fascinated by Guy's careful psychological portrait of the aging monarch in the sunset of her reign."
–Library Journal
or
Not Currently Available for Direct Purchase