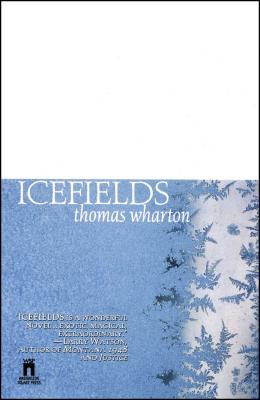 Icefields
Paperback

* Individual store prices may vary.
Description
Winner of:


The Banff Grand National Prize for Literature
The Writers Guild of Alberta Best First Book Award
The Commonwealth Best First Novel Prize (Caribbean and Canada Region)

At a quarter past three in the afternoon, on August 17, 1898, Doctor Edward Byrne slipped on the ice of Acturus glacier in the Canadian Rockies and slid into a crevasse . . .
Nearly sixty feet below the surface, Byrne is wedged upside down between the narrowing walls of a chasm, fighting his desire to sleep. The ice in front of him is lit with a pale blue-green radiance. There, embedded in he pure, antediluvian glacier, Byrne sees something that will inextricably link him to the vast bed of ice, and the people who inhabit this strange corner of the world. In this moment, his life becomes a quest to uncover the mystery of the icefield that almost became his tomb.
Within the deceptively simple framework of a tourist guidebook, Icefields takes a breathtaking, imaginative look at the human spirit, loss, myth, and elusive truths. Here is an impressive literary landscape, and an expedition unlike any you have ever experienced.
Praise For Icefields…
Peter Simpson Telegraph-Journal "Crosses Michael Ondaatje's The English Patient with Peter Hoeg's Smilla's Sense of Snow. . . . Ironic, brilliant, and unforgettable . . ."

Larry Watson Author of Montana 1948 and Justice "Icefields is a wonderful novel. Thomas Wharton writes prose that feels simultaneously stripped-down yet lush. He takes an ordinary, realistic place -- that plain, icy mountain -- and makes it exotic, magical, extraordinary."

Susan Taylor Chehak Author of Smithereens "What an accomplishment. . . . A magical story, told with such cool reserve -- the deceptive simplicity of its language and the multifaceted complexity of time, character, and plot, so much like the ice cathedral that it describes, held me completely in its thrall. . . . I'm haunted by those people and that place."

Joy Gugeler The Ottawa Citizen "A stunning debut. . . . Wharton's poetic passages betray a slow flame beneath the cool prose, a raw intense curiosity which fascinates and lays everything bare. His characters are memorably distinct and his portrait of the Rockies is at once exhaustive and engaging."

Mark Glles The Calgary Herald "Wharton writes with a prose style as clear as glacial waters, tempered with brilliant imagery and lucid dialogue. . . . If at times the style betrays Wharton's influences -- there are glimpses of Michael Ondaatje, Rudy Wiebe, Gabriel Garcia-Marquez and Kristjana Gunnars -- it is never imitative; Wharton is an original writer and Icefields is an original novel."

R. W. Sandford The Jasper Booster Community "Spare and simple, like the glaciers and frozen peaks he describes, Wharton's writing mirror the beauty of the high alpine landscape. . . . It is not often that you come across a locally written classic."
Washington Square Press, 9780671002206, 288pp.
Publication Date: October 1, 1996
About the Author
Thomas Wharton
Thomas Wharton was born in Grande Prairie, Alberta, a northern Canada oil and gas boomtown. He spent much of his youth moving from town to town, and settled for a few years in Jasper, Alberta. The small town so influenced Wharton that he set his debut novel,
Icefields
, there.
After a variety of jobs -- including hiking guide, bookstore clerk, lab technician, and technical illustrator -- he set his sights on writing. Receiving his M.A. in English from the University of Alberta in 1993, Wharton turned his thesis into his first novel,
Icefields
. NeWest Press published his debut in 1995 in his native Canada, where it received critical acclaim, and hit local bestseller lists. Washington Square Press, a division of Pocket Books, published the U.S. edition of
Icefields
on September 9, 1996.
Wharton is currently working on his Ph.D. in English at University of Calgary. He lives with his wife and two small children.
(Click here to read an
interview
with the author.)