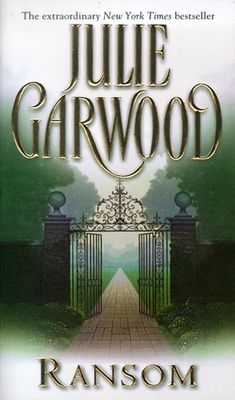 Ransom (Paperback)
Pocket Books, 9780671003364, 546pp.
Publication Date: November 1, 1999
* Individual store prices may vary.
Description
For fans of Scottish medieval romances comes this beloved and classic page-turner from #1 New York Times bestselling author Julie Garwood.

In the dark days after the death of Richard the Lionhearted, lives and lands would fall into upheaval at the hands of a power-hungry British ruler and his violent minions. One victim of the scourge is innocent Gillian, who is a mere child when the cruel and ambitious Baron Alford slaughters her father and tears her family apart. Alford, determined to recover a jeweled box for the despotic King John, is furious when the precious treasure slips through his fingers—only to be lost for more than a decade.

Now a beautiful young woman, Gillian finds the key to resolving her past in handsome Scottish chieftains Ramsey Sinclair and Brodick Buchanan. With the cunning and courage of the daring Scotsmen, and with the friendship of a new ally, Bridgid KirkConnell, Gillian at last fights the unscrupulous Baron Alford, laying claim to her home, her family, and her father's reputation. But in the presence of the mighty warrors, Gillian and Bridgid discover that desire can be a weapon of conquest, betrayal can slay trust in a heartbeat, and the greatest risk of all is to surrender to unexpected love.
About the Author
Julie Garwood is the author of numerous New York Times bestsellers, including Fire and Ice, Shadow Music, Shadow Dance, Murder List, Killjoy, Mercy, Heartbreaker, Ransom, and Come the Spring. There are more than thirty-six million copies of her books in print.
Praise For Ransom…
USA Today Julie Garwood attracts readers like beautiful heroines attract dashing heroes....

People Julie Garwood has become a trusted brand name in romantic fiction.

Romantic Times An enthralling tale....In this powerful story, passion, loyalty, friendship, and mystery superbly blend with realistic, three-dimensional characters.

Rendezvous Pure entertainment....Truly unforgettable. Romance never felt so good.

Under the Covers Book Reviews A keeper.... Anyone who has had the pleasure of reading Julie Garwood's classic tale The Secret will remember the two lovable rogues Brodick Buchanan and Ramsey Sinclair. Now they star in their own story...The plot is crisp, entertaining, and makes Medieval England seem real.

Amazon.com Thrilling.

The Cedar Rapids Gazette (IA) A riproaring romp, full of humor, romance, sword fights, and crisp dialogue.... So much fun, it begs to be read in one sitting....Characters feel like old friends, and readers will regret to see the story end.

All About Romance Wonderful....Ransom provides suspense, passion, and humor.

The Kansas City Star Julie Garwood's stories happen in a different world, and she makes that world palpable. Readers...appreciate the fragility of life in a time when death was omnipresent.