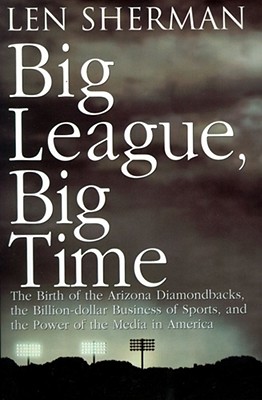 Big League, Big Time
The Birth Of The Arizona Diamonback, The Billion Daollar Business Of Sports
Paperback

* Individual store prices may vary.
Description
On March 31, 1998, more than 48,500 fans cheered the arrival of Major League Baseball's newest expansion team, the Arizona Diamondbacks. In the first book ever to chronicle the birth of a major-league baseball franchise from conception to Opening Day, Big League, Big Time takes you inside the Diamondbacks dugout -- and their corporate suite -- to examine the billion-dollar business of baseball and its enormous impact on our culture.
While many prominent people went to bat for baseball in Phoenix, sports entrepreneur Jerry Colangelo, the Diamondbacks' managing general partner, swung for the fences and scored a league-envious, $355 million state-of-the-art baseball facility. Big League, Big Time discloses how Colangelo's revolutionary vision for the Diamondbacks affected all aspects of the club -- especially his choice of personnel, from Jay Bell and Andy Benes to former Yankees manager Buck Showalter, "a young man with old-fashioned ideas."
But even before they had drafted a player, the Diamondbacks front office was well aware that marketing "The Show" was the off-the-field game they couldn't afford to lose. Read the inside story of how they chose the team's name and colors, successfully maneuvered multimillion-dollar deals with a host of major sponsors, determinedly wooed the vast Mexican market, attracted such celebrity coinvestors as Billy Crystal and Lou Gosset, Jr., and became one of the five highest revenue-producing franchises before a single game was played.
Complete with player profiles, an exclusive inside-the-war-room took at the expansion draft, and a dissection of the media's role in the global growth of the sports industry, Big League, Big Time is a rare glimpse into the politics, business, and promise of baseball -- a fascinating analysis of how one city cultivated a very special field of dreams.
Gallery Books, 9780671003449, 352pp.
Publication Date: March 1, 1999
About the Author
Len Sherman is the author of The Good, the Bad, and the Famous: Celebrities Playing Politics, America's Toughest Sheriff, Jungle Law, and other books. A 1980 graduate of Columbia Law School, he has been both a television news correspondent and producer, was the associate publisher of The National Times, and has worked in politics and entertainment. He lives in Scottsdale, Arizona, with his wife, Betsy, and his daughter, Emily.