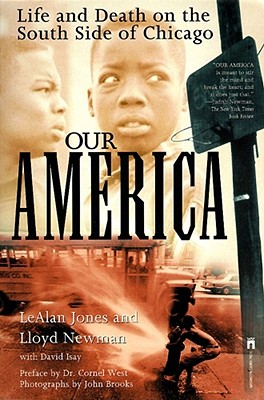 Our America
Paperback

* Individual store prices may vary.
Description
Through two award-winning National Public Radio documentaries, and now this powerful book, LeAlan Jones and Lloyd Newman have made it their mission to be loud voices from one of this country's darkest places, Chicago's Ida B. Wells housing project.

Set against the stunning photographs of a talented young photographer from the projects, Our America evokes the unforgiving world of these two amazing young men, and their struggle to survive unrelenting tragedy. With a gift for clear-eyed journalism, they tell their own stories and others, including that of the death of Eric Morse, a five-year-old who was dropped to his death from the fourteenth floor of an Ida B. Wells apartment building by two other little boys.

Sometimes funny, often painful, but always charged with their dream of Our America, LeAlan Jones and Lloyd Newman reach out to grab your attention and break your heart.
Praise For Our America…
Judith Newman The New York Times Book Review Our America is meant to stir the mind and break the heart, and it does just that.

Louise Kiernan Chicago Tribune Heart-cracking power....Our America stands out because its voices spill out virtually unrestrained -- raw, ugly and eloquent.

D. Cooper Philadelphia Inquirer A remarkable book....Jones and Newman present observations that draw empathy and surprise.

General Colin L. Powell LeAlan Jones and Lloyd Newman have told us a story that should tear at our hearts. They speak of a 'different America.' One where crime, drugs, lack of jobs, and every imaginable social ill work to break the human spirit. Some youngsters rise above it, but too many of them don't have a chance. They are trapped. Read this moving chronicle and resolve to help a young person in need in your community to believe in the American dream.

Frank McCourt Pulitzer Prize-winning author of Angela's Ashes You won't reach the last page of Our America without wondering what country this book is about. The young authors, LeAlan Jones and Lloyd Newman, have given us dispatches from hell, bleak and numbing as anything from Vietnam. You despair of the waste of young lives but hope that at least two will be saved: the sensitive and perceptive young Jones and Newman. We rage and pray for them and their generation.
Scribner, 9780671004644, 208pp.
Publication Date: May 1, 1998
About the Author
LeAlan Jones attends Florida State University, where he is majoring in criminology. LeAlan is the National Junior Spokesperson for No Dope Express and has lectured across the country. His honors for the radio documentaries Ghetto Life 101 and Remorse include the Livingston Award, the George Foster Peabody Award, and the grand prize from the Robert F. Kennedy journalism Awards -- the first time a radio program has ever received that honor.