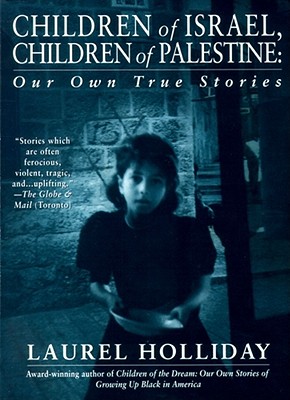 Children of Israel, Children of Palestine (Paperback)
Gallery Books, 9780671008048, 384pp.
Publication Date: March 1, 1999
* Individual store prices may vary.
Description
Israeli Jews and Palestinians appear side by side for the first time in this remarkable book to share powerful feelings and reflections on growing up in one of the world's longest and most dangerous conflicts. Here, thirty-six men and women, boys and girls, tell of their coming-of-age in a land of turmoil.
From kibbutzim in Israel and the occupied territories to Palestinian refugee camps in the West Bank and the Gaza Strip, Israeli Jews and Palestinians tell of tragedy and transcendence as they face their deepest fears and dream of a peaceful future. Listen to them as they recount stories of their brief and often violent youth.
No matter what their ethnic identity, how much and how long they have suffered, these courageous autobiographers most often reveal a deep longing for peace. Perhaps their hopes and fears are best illustrated by a parable retold by eighteen-year-old Redrose (a pseudonym):
"Two frogs got trapped in a jar of cream. They couldn't jump out of the liquid and they couldn't climb because the sides of the jar were slippery. One frog said, 'By dawn I'll be dead,' and went to sleep. The second frog swam all night long and in the morning found herself floating on a pat of butter."
About the Author
Laurel Holliday, formerly a college teacher, editor, and psychotherapist, now writes full time in Seattle. She is the award-winning author of the Children of Conflict series: Children in the Holocaust and World War II: Their Secret Diaries; Children of The Troubles: Our Lives in the Crossfire of Northern Ireland; and Children of Israel, Children of Palestine: Our Own True Stories. Those three volumes were collected and abridged in the Archway Paperback edition titled Why Do They Hate Me?: Young Lives Caught in War and Conflict. Dreaming in Color, Living in Black and White is an abridged edition of Holliday?s fourth title in the Children of Conflict series, Children of the Dream: Our Own Stories of Growing Up Black in America. Laurel Holliday is also the author of Heartsongs, an international collection of young girls' diaries, which won a Best Book for Young Adults Award from the American Library Association.
Praise For Children of Israel, Children of Palestine…
The Globe & Mail (Toronto) Stories which are often ferocious, violent, tragic, and...uplifting.

Publisher's Weekly This compilation dramatizes the common humanity of the two peoples....A rich and moving collection....