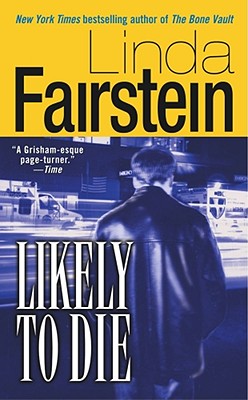 Likely to Die (Mass Market)
Pocket Books, 9780671014933, 448pp.
Publication Date: September 1, 1998
Other Editions of This Title:
Mass Market (12/31/2050)
* Individual store prices may vary.
Description
The real-life work of sex-crimes prosecutor Linda Fairstein brought "riveting authenticity" (Vanity Fair) to her bestselling debut novel, Final Jeopardy. Now Fairstein's fictional counterpart -- smart and savvy assistant D.A. Alexandra Cooper -- returns in "[a] Grisham-esque page turner" (Time) that puts Alex in the line of fire.
New York City's oldest and largest medical center is the scene of a ghastly attack: top neurosurgeon Gemma Dogen is found in her blood-soaked office, where she has been sexually assaulted, stabbed, and designated by the cops as a "likely to die." By the time Alex has plunged into the case, it's a high-profile, media-infested murder investigation with a growing list of suspects from among those who roam the hospital's labyrinthine halls. As Alex's passion to find the killer intensifies, she discovers this hospital is not a place of healing but of deadly peril -- and that she is the next target for lethal violence.
A high-style thriller that sweeps from Manhattan to London to Martha's Vineyard, Likely to Die is an exhilarating tale from a justice system insider and provocative novelist.
About the Author
Linda Fairstein was chief of the Sex Crimes Unit of the district attorney's office in Manhattan for more than two decades and is America's foremost legal expert on sexual assault and domestic violence. Her Alexandra Cooper novels are international bestsellers and have been translated into more than a dozen languages. She lives in Manhattan and on Martha's Vineyard.
Praise For Likely to Die…
Patricia Cornwell An authoritative and scary view from one who has battled evil and locked it away. Fairstein just gets better. Get to know her if you dare.

People A whopping whodunit...With its taut plot and classy setting, Likely to Die is an uptown act.

Hilma Wolitzer New York Daily News A first-rate mystery novel by someone who writes about what she knows and truly knows about what she writes.

Susan Issacs This is no I-guess-this-must-be-what-it's-like fantasy of how the criminal justice system operates. Final Jeopardy is a smart and gutsy insider's whodunit. But the novel has more than authenticity going for it. It's got a terrific protagonist. Alexandra Cooper is a tough, dedicated assistant district attorney and a warmhearted, funny, and insightful dame. Linda Fairstein has done one hell of a job.

People Step aside, girls. Here comes Manhattan sex creimes prosecutor Alexandra Cooper in a red Escada suit, trailing a cloud of Chanel No. 5....Fairstein gives her sleek -- and single -- D.A. a whopping whodunit....There are plenty of suspects to keep Alex clicking along in her Manolo Blahnik heels...and sizzling sexual tension between Alex and NYPD detective Mike Chapman.

The New York Times Book Review Stylish...engaging...Linda Fairstein's second novel takes its title from police slang for a crime victim whose death is inevitable. As in her previous novel, Final Jeopardy, the author places a smart and driven Manhattan prosecutor named Alexandra Cooper at the center of the action.

Chicago Tribune This gritty, harsh book has a strong sense of authenticity.

Long Island Newsday (NY) As real as tomorrow's tabloid headlines, as gritty as a police stakeout, as graphic as an autopsy, Likely to Die is a fearsomely authentic whodunit that manages to raise important issues about the nature, and the horror, of sex crimes.