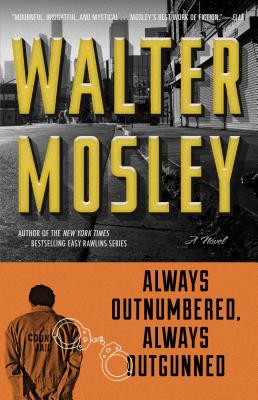 Always Outnumbered, Always Outgunned (Paperback)
Washington Square Press, 9780671014995, 208pp.
Publication Date: October 1, 1998
* Individual store prices may vary.
Description
New York Times bestselling author Walter Mosley introduces an "astonishing character" (Los Angeles Times Book Review) in this acclaimed collection of entwined tales. Meet Socrates Fortlow, a tough ex-con seeking truth and redemption in South Central Los Angeles -- and finding the miracle of survival.
"I either committed a crime or had a crime done to me every day I was in jail. Once you go to prison you belong there." Socrates Fortlow has done his time: twenty-seven years for murder and rape, acts forged by his huge, rock-breaking hands. Now, he has come home to a new kind of prison: two battered rooms in an abandoned building in Watts. Working for the Bounty supermarket, and moving perilously close to invisibility, it is Socrates who throws a lifeline to a drowning man: young Darryl, whose shaky path is already bloodstained and fearsome. In a place of violence and hopelessness, Socrates offers up his own battle-scarred wisdom that can turn the world around.
About the Author
Walter Mosley is the New York Times bestselling author of five Easy Rawlins mysteries: Devil in A Blue Dress, A Red Death, White Butterfly, Black Betty, and A Little Yellow Dog; three non-mystery novels, Blue Light, Gone Fishin', and R. L.'s Dream; two collections of stories featuring Socrates Fortlow, Always Outnumbered, Always Outgunned, for which he received the Anisfield Wolf Award, and which was an HBO movie; and a nonfiction book, Workin' On The Chain Gang. Mosley is also the author of the Leonid McGill, and Fearless Jones mystery series, The Tempest Tales and Six Easy Pieces. He is a former president of the Mystery Writers of America, a founder of the PEN American Center Open Book Committee, and is on the board of directors of the National Book Awards. A native of Los Angeles, he now lives in New York City.
Praise For Always Outnumbered, Always Outgunned…
"Mournful, insightful, and mystical. It is also Mosley's best work of fiction."

"A wonderful book...[with] characters who seem as real as the reader."

"Mosley has constructed a perfect Socrates for millennium's end -- a principled man who finds that the highest meaning of life can be attained through self-knowledge, and who convinces others of the power and value of looking within."

"Powerful...hard-hitting, unrelenting, poignant short fiction."

"Mosley's style suits his subject perfectly. The prose is sand-papery, the sentence rhythms often rough and jabbing. But then -- sudden surprise -- we come upon moments of undefended lyricism."

"Unveiling a new, bigger-than-life urban hero...Mosley...confer[s] on the mean streets of contemporary L.A. what filmmaker John Ford helped create for the American West: a gun-slinging mythology of street justice and a gritty, elegiac code of honor...A maverick protagonist."

"Tough but touching stories."

"An insistently probing, philosophical gem...set in a world where standard notions of right and wrong have been blown to hell."

"The work of a writer unafraid of pushing forward his own notions of responsibility and entitlement."