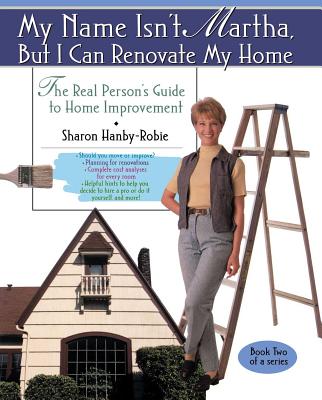 My Name Isn't Martha But I Can Renovate My Home
Paperback

* Individual store prices may vary.
Description
EVERYTHING YOU NEED TO KNOW ABOUT HOME RENOVATION IN ON HANDY VOLUME
Renovating your home has never been so easy -- thanks to Sharon Hanby-Robie's helpful advice. The author of the hugely popular My Name Isn't Martha, But I Can Decorate My Home assists you in renovating your house to perfection in this professional, no-nonsense book that will help you achieve Martha Stewart's results without spending a fortune. From simply adding new accessories to your kitchen or bath to gutting the entire first floor, interior designer Hanby-Robie will show you how to create a living space that complements your personal style. You'll learn: How to assess the resale value of your renovation
What the difference is between an architect, a builder, and a designer
Now to visualize each room to maximize its appeal
What you MUST know about building codes
How to create an exterior style to match your new rooms Divided into three sections -- EVALUATION AND PLANNING, INTERIOR RENOVATIONS, and EXTERIOR RENOVATION -- this invaluable guide tackles every room in your house, including windows, floors, heating and cooling systems, landscaping, and even garages. In her witty and accessible style, Hanby-Robie offers words of wisdom, trade secrets, and cost-saving tips, whether you're making a few small changes or starting from ground zero. And she shows you how to do it with skill and style -- on a budget you can afford.
Pocket Books, 9780671015435, 320pp.
Publication Date: August 1, 1999
About the Author
Sharon Hanby-Robie has been an interior designer and a member of the American Society of Interior Designers for more than twenty years, with her own business, Town House Interiors. She is also a licensed real estate agent and an actress who has appeared in numerous informercials, and she works in conjunction with her husband as marketing and promotion manager for their publishing company, Starburst Publishers. Her previous book, My Name Isn't Martha, But I Can Decorate My Home, is available from Pocket books. She and her husband live in Lancaster, Pennsylvania.