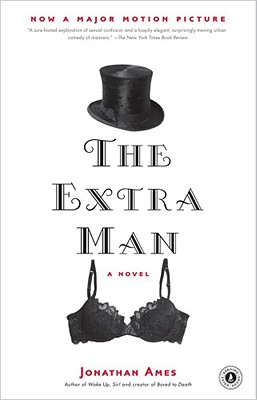 The Extra Man (Paperback)
Scribner Book Company, 9780671015589, 384pp.
Publication Date: July 1, 1999
Description
"A storyteller of refreshing inventiveness and subtlety" (San Francisco Chronicle), Jonathan Ames has won critical raves for this delightful "comedy of impeccable manners with a debauched '90s spin" (Elle). Meet Louis Ives: well-groomed, romantic, and as captivating as an F. Scott Fitzgerald hero. Only this hero has a penchant for ladies clothes, and he's lost his teaching post at Princeton's Pretty Brook Day School after an unfortunate incident involving a colleague's brassiere. Meet Henry Harrison: former actor, failed but brilliant playwright, and a well-seasoned escort for New York City's women of means. He dances alone to Ethel Merman records, second-acts operas, and performs his scrappy life with the dignity befitting a self-styled man of the world. What can this ageless Don Quixote of the Upper East Side have to offer a young gentleman such as Louis? What, indeed. Well, the answer lies somewhere between the needs of an irascible mentor and the education of his eager apprentice...between cocktails on the Upper East Side and an even more intoxicating treat along the secret fringes of Times Square...and between friendship and longing.
Praise For The Extra Man…
The New York Times Book Review


A sure-footed exploration of sexual confusion and a loopily elegant, surprisingly moving urban comedy of manners.


Rick Moody
author of Purple America

Jonathan Ames has always been one of my favorite contemporary writers, both for his limpid and elegant Lost Generation prose style and for his utterly fearless commitment to the most demanding psychosexual comedies. The Extra Man extends his accomplishments considerably. This is one of the most charming and alarming books of recent years.


Booklist
(starred review)

A miracle....This novel is not to be missed.


Francine Prose
The New York Observer

Ames has the one thing Fitzgerald lacked: a sense of humor...The Extra Man wins us over with its sheer energy and good will, its confidence in the ability of its own humor and intelligence to widen our ideas about the possibilities of love, and about the permissible range of inner and outer lives to which today's young gentleman may properly aspire.


The Washington Post


By updating the moral education of a young gentleman, Ames has written a Bildungsroman for the end of our century.


Jeffrey Eugenides
author of The Virgin Suicides

Not since Harold and Maude has there been such a lovable odd couple as Louis Ives and Henry Harrison. Told in a lucid, diverting prose style, The Extra Man is a picaresque tale of a young man's sentimental education (in subjects ranging from tuxedo studs to transsexuals). In Henry Harrison, Jonathan Ames has created a truly memorable character.


The Village Voice


The Louis and Henry show is honest, funny, and original, making the meaning of "human" deep and strange in the best way.


Martha McPhee
author of Bright Angel Time

Wonderfully odd and charming, at times riotously funny, Jonathan Ames' The Extra Man strikes a perfect balance between sympathy and comedy, drawing upon deep reserves of compassion for the strange and unnamable urges that infiltrate the lives of his two remarkable characters.


Booklist
(starred review)

A sort of Odd Couple for the next millennium.


The New York Times


Ames makes it clear that his protagonist's sexual tentativeness and anxiety are really just flimsy covers for his passion and warmth. That's what makes The Extra Man work so well. Louis may feel as awkward as Milton Berle in drag, but inside he's really Fred Astaire -- he just doesn't know it yet.
Advertisement