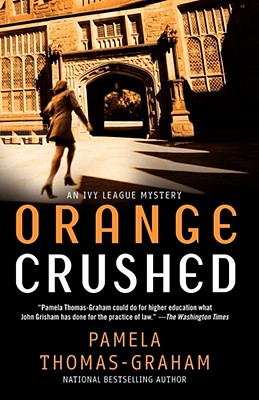 Orange Crushed
An Ivy League Mystery
Paperback

* Individual store prices may vary.
Description
Pamela Thomas-Graham's beguiling and atmospheric Ivy League novels simmer with hot button issues -- and unveil layers of malice and murder inside the life academic. Harvard economics professor Nikki Chase is intent on becoming the first tenured African-American woman in her department. But with her affinity for solving crimes, she may make her name in a place where the highest levels of human intellect can court the lowest impulses of the human heart.

PUBLISH OR PERISH

A working weekend at a Princeton conference is just what Nikki needs to deflect the pre-holiday pressures -- both professional and personal -- that are closing in on her back in Cambridge. And there will be down time, too, at a party honoring professor Earl Stokes, her old friend and mentor. Rumors abound that Stokes, a Princeton superstar, may depart for Harvard, a change that would stir up as much controversy as his new bestselling book on race issues. When Stokes's body is discovered among the smoldering ruins of the not-yet-completed black-studies building, a shattered Nikki refuses to accept the police findings that the death was accidental. And among the ashes she will uncover a murderous agenda with ominous implications for not only the Princeton campus but Harvard as well.
Praise For Orange Crushed: An Ivy League Mystery…
"Pamela Thomas-Graham could do for higher education what John Grisham has done for the practice of law."
-- The Washington Times

"Thomas-Graham effortlessly reveals the inner workings of a prestigious university in a provocative novel sure to appeal well beyond the ivory tower."
-- Publishers Weekly

"Her scenes of academe's turf, gender, racial, and canon politics have the awful clink of truth."
-- The Wall Street Journal
Gallery Books, 9780671016722, 288pp.
Publication Date: October 11, 2005
About the Author
Pamela Thomas-Graham is a Phi Beta Kappa graduate of Harvard College and a graduate of Harvard Law School and Harvard Business School. Now president and CEO of CNBC Television, she divides her time between Westchester County and Manhattan. This is her third novel.