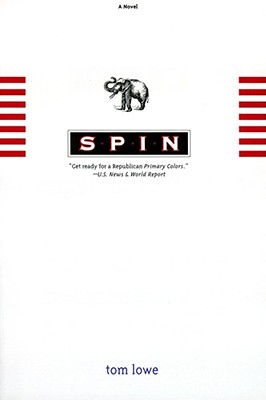 Spin (Paperback)
Gallery Books, 9780671019242, 304pp.
Publication Date: July 1, 1999
* Individual store prices may vary.
Description
An unforgettable chronicle of political seduction, Spin is a whip-smart look at a world of thrilling excess, raw power, and utter ruthlessness—laying bare the American democratic process in action, and in the flesh.

Plunging into California politics armed with a lethal tongue and a taste for power, Gulf War veteran Jim Asher lands a plum role in Republican Edward Winston's bare-knuckle Senate campaign. Learning spin control from the master—Bud Raper, the crude hired gun who catapulted both Reagan and Bush into the Oval office—Jim quickly becomes the hottest new political consultant west of the Washington Beltway, an Armani-clad Machiavelli who snaps up the perks of a six-figure salary and illicit liaisons with everyone from loyal party girls to roving celebrity reporters. Through it all, Jim keeps his eyes on the ultimate prize—Washington.

But when the stakes of the game are raised, Jim comes face-to-face with an unexpected nemesis: his own conscience. With more than one shark prowling the waters, Jim is forced to risk everything—a choice that threatens to trigger a political shakedown of epic proportions.
About the Author
Tom Lowe worked as an aide in Michael Huffington's 1994 run for the Senate in California, and later became the youngest person ever to serve as director of public affairs for the speaker of the California Assembly. He was a producer for The McLaughlin Group in Washington, appeared in two Hollywood films, and fought in Operation Desert Storm. He is the author of Spin and lives in California.
Praise For Spin…
U.S. News & World Report Get ready for a Republican Primary Colors.

Los Angeles Daily News An absolute thermonuclear bombshell! Tom Lowe has written a sizzling, humorous, sometimes dark and deeply disturbing portrait of American politics and culture. This novel could certainly rock the country.

George magazine Sex Conservative Style: Republicans, take cover.

New York Post The glitter of the political machine is as fascinating as it is revolting -- and the heady, booze-and-cash fueled rush of Asher's rise to stardom, and fall from it, is mesmerizing.

Los Angeles Times The political realm is abuzz over Spin. Tom Lowe paints a frenetic view of political campaigns bulging with egos, cash, and compromises....The thrill ride along the way is a universal rush.

Kirkus Reviews [A] delightfully trashy morality tale....[A] frothy, sex- and caffeine-fueled how-to exceed-in-politics adventure...[with an] ingenious antihero....and clever jabs at high-living conservatives that charms and scandalizes with disarming ease.

Chicago Tribune Jim Asher is a postmodern Great Gatsby, naive at heart, wending his way toward political status in California politics. And the book asks a serious question: Can one play the political game and remain honest?

Los Angeles Daily News Spin's Jim Asher is Jerry Maguire meets Dirk Diggler of Boogie Nights, and from the first page, he won't loosen his frantic grip on you.

The London Times Tom Lowe is preparing himself for instant celebrity status....Spin is certain to amaze.

Denver Post [A] political potboiler.