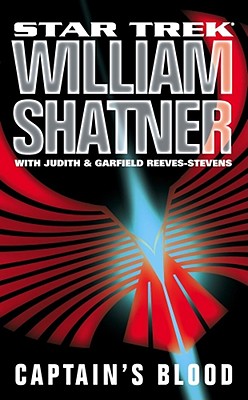 Captain's Blood (Star Trek ) (Paperback)
Pocket Books/Star Trek, 9780671021306, 352pp.
Publication Date: January 1, 2005
* Individual store prices may vary.
Description
Following the explosive events of Star Trek® Nemesis, the Romulan Star Empire is in disarray, and Ambassador Spock attempts to render aid by launching a last-ditch effort to reunify the Romulans with their distant forebears, the Vulcans. But when Spock is publicly assassinated at a Romulan peace rally, Starfleet and the Federation are unable to search for the criminals responsible without triggering an intergalactic war.
Thus, it falls to James T. Kirk, now retired, to investigate his beloved friend's murder. Given clandestine assistance by Captain Will Riker of the Starship Titan, and accompanied by his good friend Jean-Luc Picard, Kirk travels to Romulus as a civilian, along with his five-year-old child, Joseph, the cantankerous Doctor Leonard McCoy, retired Chief Engineer Montgomery Scott, as well as several members of Picard's crew, still waiting to return to duty on the badly damaged U.S.S. EnterpriseTM NCC-1701-E. But on Romulus' sister world, Remus, Kirk unexpectedly encounters an alluring enemy from his past as Picard and he discover that Spock's apparent murder hides an even deeper mystery, literally reaching beyond the limits of the galaxy.
Trapped on a deadly, alien world on the eve of a Romulan civil war that could plunge the galaxy into a civilization-ending conflict, Kirk's investigation at last brings him to the heart of a staggering conspiracy. Now, he discovers the true threat facing the Romulans, and is forced into the heartrending realization that for peace to prevail, he must sacrifice the freedom of his son, whose very blood holds the secret to his startling destiny.
Captain's Blood is a return to the sweeping action of William Shatner's greatest Star Trek adventures, bringing together both generations to face an unstoppable enemy in a battle for the existence of all life in this galaxy, and beyond.
About the Author
William Shatner is the author of nine
Star Trek ®
novels, including the
New York Times
bestsellers
The Ashes of Eden
and
The Return
. He is also the author of several nonfiction books, including
Get a Life!
and
I'm Working on That
. In addition to his role as Captain James T. Kirk, he stars as Denny Crane in the hit television series from David E. Kelley,
Boston Legal
—a role for which he has won two Emmy Awards and a Golden Globe. Find more information at WilliamShatner.com.
Judith & Garfield Reeves-Stevens
are the authors of more than thirty books, including numerous
New York Times
bestselling Star Trek novels. Their newest novel of suspense,
Freefall,
is a follow-up to their
Los Angeles Times
bestseller,
Icefire,
and is set against the political intrigue and historical conspiracy surrounding the next race to the Moon.
In keeping with their interest in both the reality of space exploration and the science fiction that helps inspire it, in 2003 Judith and Garfield were invited to join a NASA Space Policy Workshop for the development of NASA's new goals as put forth in the agency's 2004 Vision for Space Exploration. Then, for the 2004 television season, the couple joined the writing staff of
Star Trek: Enterprise
as executive story editors. For more information, please visit
www.reeves-stevens.com
.
or
Not Currently Available for Direct Purchase