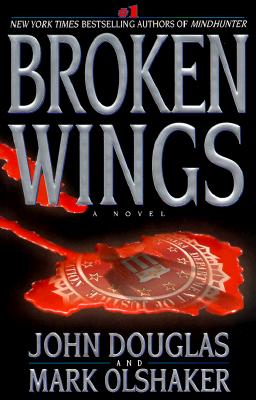 Broken Wings (Hardcover)
Atria, 9780671023911, 336pp.
Publication Date: November 1, 1999
* Individual store prices may vary.
or
Not Currently Available for Direct Purchase
Description
John Douglas, the FBI legend who pioneered the art of criminal profiling, chronicled twenty-five harrowing years of tracking human monsters in his "New York Times" bestselling nonfiction on topics ranging from the Atlanta child murders to the Unabomber. Now, with coauthor Mark Olshaker, Douglas -- the model for Special Agent Jack Crawford in "The Silence of the Lambs" -- delivers a riveting first novel that journeys not only through the complex world of today's FBI, but into an explosive case that shakes the foundations of Washington itself.
At first, it looks like suicide. A successful man in his San Francisco Bay-area home, lying in his blood-soaked bed, dead by a gunshot in the mouth. But investigators combing the scene know this case has far-reaching implications, and the press is already waiting to pounce on it. For the deceased is no ordinary corpse. The Honorable Thomas Jefferson Boyd was director of the FBI.
Three thousand miles away, on the first morning of his forced retirement as head of the FBI's Behavioral Science Profiling Unit, Jake Donovan receives an urgent summons back to Quantico. Within hours, he is traveling to the West Coast to try to crack the most dangerous, volatile, and politically charged case of his career. What he uncovers about the straight-arrow director will shock the nation -- if it ever gets out. Upon his return to Quantico, he is brutally attacked on a desolate Virginia highway. The assailants may be supporters of a right-wing paramilitary organization with a grudge against the Bureau for its handling of the Owl Creek, Wyoming, standoff that left a survivalist leader dead. Although suspicious that Boyd's death may be linked to Owl Creek, Jake is sure of only one thing -- more than just his reputation is on the firing line.
Working at the confidential directive of the FBI's acting chief, Orlando "the Raven" Ravan, Jake takes matters into his own hands and enlists an elite team of "broken wings" -- damaged-goods agents like himself who have been frozen out of the FBI -- experts in profiling, crime scene analysis, forensic medicine, and tactics. Among them is the crack sniper who fired the fatal bullet at Owl Creek, and a beautiful, brilliant female agent who shoots -- and dresses -- to kill. Equipped with a state-of-the-art airplane that serves as a mobile lab and headquarters, this secretly funded rogue squad of mindhunters is going to do what the Bureau can't or won't: follow the trail of evidence, no matter where it leads, no matter whom it implicates.
An electrifying cross-country odyssey of intrigue, "Broken Wings" moves beyond the authors' penetrating nonfiction. Douglas and Olshaker take readers along on a furious psychological duel between the nation's top profiler and a ruthless, criminal mastermind.

Advertisement