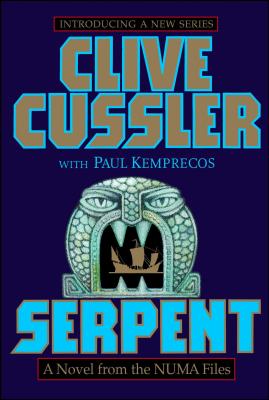 Serpent From The Numa Files (Paperback)
Pocket Books, 9780671026707, 480pp.
Publication Date: June 1, 1999
* Individual store prices may vary.
Description
From the classic novel Raise the Titanic! to Flood Tide, Clive Cussler and his fictional alter ego Dirk Pitt® have earned legions of fans worldwide. Now, the author of numerous consecutive bestsellers unleashes a hero for the next millennium in an electrifying new series of unrelenting action and edge-of-your-seat thrills.

On the bottom of the icy sea off Nantucket lies the battered remains of the Italian luxury liner, Andrea Doria. But few know that within its bowels rests a priceless pre-Columbian antiquity -- a treasure that now holds the key to a puzzle that is costing people their lives.

For Kurt Austin, the leader of a courageous National Underwater Marine Agency (NUMA) exploration team, the killing begins when he makes a daring rescue of a beautiful marine archaeologist. The target of a powerful Texas industrialist named Halcon, Nina Kirov was attacked off the coast of Morocco after her discovery of a carved stone head that may prove Christopher Columbus was not the first European to discover America. Soon Kurt and Nina embark on a deadly mission to uncover Halcon's masterful plan -- an insidious scheme that would have him carve out a new nation from the southwest United States and Mexico, and ride to power on a wave of death and destruction.

With Austin's elite NUMA crew attacking the murderous conspiracy from different sides, an extraordinary truth emerges: that Columbus may have made a fifth, unknown voyage to America in search of a magnificent treasure. And that the silent, steel hull of the Andrea Doria not only holds the answer to what the explorer may have found -- but the fate of the United States itself.
About the Author
Clive Cussler is the author or coauthor of over eighty previous books in five bestselling series, including Dirk Pitt®, NUMA® Files, Oregon® Files, Isaac Bell, and Sam and Remi Fargo. His nonfiction works include Built for Adventure: The Classic Automobiles of Clive Cussler and Dirk Pitt, and Built to Thrill: More Classic Automobiles from Clive Cussler and Dirk Pitt, plus The Sea Hunters and The Sea Hunters II; these describe the true adventures of the real NUMA, which, led by Cussler, searches for lost ships of historic significance. With his crew of volunteers, Cussler has discovered more than sixty ships, including the long-lost Confederate ship Hunley. He lives in Arizona.
Praise For Serpent From The Numa Files…
Richmond Times-Dispatch Cussler is a master of building suspense and tension.