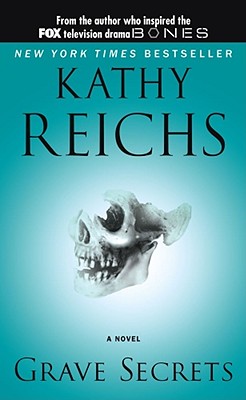 Grave Secrets (Paperback)
Pocket Star, 9780671028381, 400pp.
Publication Date: July 1, 2003
* Individual store prices may vary.
Description
"Fans of TV's CSI: Crime Scene Investigation should be in heaven" (People) stepping into the world of forensic anthropologist Dr. Temperance Brennan, star of Kathy Reichs' electrifyingly authentic bestsellers.

A harrowing excavation unearths a chilling tragedy never laid to rest.

They are "the disappeared," twenty-three massacre victims buried in a well in the Guatemalan village of Chupan Ya two decades ago. Leading a team of experts on a meticulous, heartbreaking dig, Tempe Brennan pieces together the violence of the past. But a fresh wave of terror begins when the horrific sounds of a fatal attack on two colleagues come in on a blood-chilling satellite call. Teaming up with Special Crimes Investigator Bartolomé Galiano and Montreal detective Andrew Ryan, Tempe quickly becomes enmeshed in the cases of four privileged young women who have vanished from Guatemala City -- and finds herself caught in deadly territory where power, money, greed, and science converge.
About the Author
Kathy Reichs is the author of nineteen New York Times bestselling novels and the coauthor, with her son, Brendan Reichs, of six novels for young adults. Like the protagonist of her Temperance Brennan series, Reichs is a forensic anthropologist—one of fewer than one hundred and fifteen ever certified by the American Board of Forensic Anthropology. A professor in the Department of Anthropology at the University of North Carolina at Charlotte, she is a former vice president of the American Academy of Forensic Sciences and serves on the National Police Services Advisory Council in Canada. Reichs's own life, as much as her novels, is the basis for the TV show Bones, one of the longest-running series in the history of the Fox network.


Praise For Grave Secrets…
"Powerful . . . a page-turner." -- The Hartford Courant (CT)

"The medical details . . . [are] vivid and fascinating." -- Booklist

"Chilling." -- People