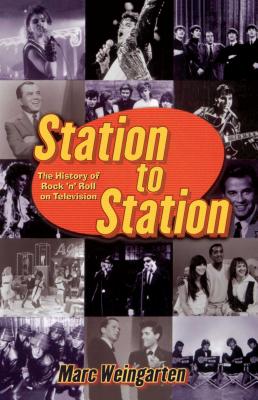 Station To Station
The Secret History of Rock & Roll on Television
Paperback

* Individual store prices may vary.
Description
"Rock 'n' roll was loud, brash, and impudent; TV was soothing and polite. Rock 'n' roll was sex; TV was violins. Rock 'n' roll was Elvis Presley; TV was Robert Young."
-- from Station to Station
Television and rock 'n' roll: a combative yet profitable marriage of convenience that shapes fashion, attitude, talk, and music itself. In Station to Station, the first book to fully chronicle the evolution of televised rock, renowned music journalist Marc Weingarten brings to life all the defining moments in its history, from Elvis and The Ed Sullivan Show to Madonna and MTV.
Covering six decades of culturally significant performances, personalities, and shows, and drawing on dozens of in-depth interviews with key players at every level, Weingarten reveals how rock on television synthesized the burgeoning youth culture and transformed the face of middle-class America. He explores American Bandstand's stranglehold on the pop-radio charts in the 1950's, the rise and demise of artists via Soul Train and Saturday Night Live, and the impact of radio programmer Bob Pittman's idea for an "all music video" channel. Whether discussing players (Dick Clark, Don Kirshner, Don Cornelius), prefab teen idols (Fabian, The Monkees, The Partridge Family), or showstoppers (The Beatles, Michael Jackson, Run-DMC) Station to Station is a thouroughly engaging and coprehensive look at the intersecting realms of popular culture's two most influential artforms.
Gallery Books, 9780671034443, 288pp.
Publication Date: November 1, 2000
About the Author
Marc Weingarten is a freelance journalist whose work has appeared in the Los Angeles Times, US Weekly, Rolling Stone, Spin, Entertainment Weekly, and Vibe. He lives in Los Angeles.