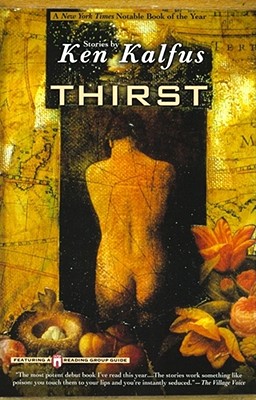 Thirst
Paperback

* Individual store prices may vary.
Other Editions of This Title:
Paperback (3/2/2010)
Description
In "the story collection of the year" (Paper magazine), Ken Kalfus mines a vast terrain of geography and metaphor to create a stunning series of portraits of people caught in the seismic collision of cultures, be they real, hallucinated, dreamed, or desired. With his "magical, transformative, and captivating" (Boston Book Review) mix of fantasy and dark humor, Kalfus has crafted an extraordinary collection that is, by turns, hilarious, mysterious, and touching.
Praise For Thirst…
The Village Voice The most potent debut book I've read this year....The stories work something like poison: you touch them to your lips and you're instantly seduced.

David Foster Wallace Ken Kalfus is an important writer in every sense of "important." There are funny, hip writers, and there are smart, technically innovative writers, and there are wise, moving, and profound writers. Kalfus is all these at once, and the stories in Thirst manage simultaneously to delight, impress, provoke, and redeem.

The New York Times Book Review Throughout this collection, the door is open to...unsettling ambiguity; always a tantalizing "perhaps" is in play...Ken Kalfus lights his stories with fundamental strangeness. The displaced figures in Thirst drift through worlds that are at once astonishing and familiar. They'd like to wake up in their own beds after a good night's sleep, but even that blessing would, we suspect, have the word "perhaps" in it somewhere.

Salon A dazzling debut....With his amazingly eclectic story collection, Ken Kalfus emerges as a major literary talent....It's exhilarating to discover a young writer with so much range and so little self-consciousness about exploring it.

CityPages (Minneapolis/St. Paul) Kalfus' grip on the story is so gentle that the story itself, like an unruly boy soft on the inside, always stays within the author's reach. But in the end, Kalfus surprises you, transports you to a different frame of mind -- a sharp, clean turn in the story and you're left holding your breath, wondering how you got there.

Robley Wilson This is a dazzle of a book...a kind of literary hit-and-run that keeps sideswiping the reader with surprise and wonder.

Miami Herald Unexpect the expected: good advice for any reader who tends to judge a book by its publicity blurbs, but particularly apropos to Ken Kalfus' first venture into fiction. I can, though, confidently vouch for one thing to expect from Thirst: delight.

Boston Book Review An intelligent and playful collection of stories that will move readers by engaging their sense of wonder and joy of exploration....Ken Kalfus resorts to fiction to accommodate what life can't accommodate -- imaginary meanderings that the physical, phenomenological world makes impossible. He keeps contradictions and ambivalences in abeyance, forcing confrontation of possible and impossible worlds. He uses fiction, among other things, to address problems, without seeking to resolve them.

The New York Times Book Review The stories in Thirst come at Ken Kalfus' readers from left of center, from surprising places not located on the banks of the mainstream....The fable "Invisible Malls" is a delicious fantasy......

Paper magazine Playful, moving short stories about travel, childhood, and loss, from a writer who does almost everything well.
Washington Square Press, 9780671034825, 224pp.
Publication Date: September 1, 1999