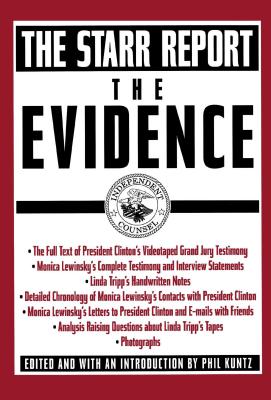 The Evidence
The Starr Report
Paperback

* Individual store prices may vary.
Description
THE GRAND JURY TESTIMONY TRANSCRIPTS, WITH EXTENSIVE KEY EVIDENCE FROM INDEPENDENT COUNSEL KENNETH STARR'S INVESTIGATION OF PRESIDENT CLINTON
Including:
The Full Text of President Clinton's Videotaped Grand Jury Testimony
Monica Lewinsky's Complete Testimony and Interview Statements
Linda Tripp's Handwritten Notes
Detailed Chronology of Monica Lewinsky's Contacts with President Clinton
Monica Lewinsky's Letters to President Clinton and E-mails with Friends
Analysis Raising Questions about Linda Tripp's Tapes
Behind-the-Scenes Look at the Landmark Legal Confrontation
Photographs
Gallery Books, 9780671034993, 672pp.
Publication Date: August 1, 1998
About the Author
Phil Kuntz has been a staff reporter for The Wall Street Journal's Washington bureau since 1994, and has covered the Monica Lewinsky story since its inception. He is currently the leader of a team of Washington reporters that works on investigative projects and covers the Justice Department.Last year, he was part of a team of reporters whose coverage of the 1997 campaign finance scandal won them an honorable mention for the Goldsmith Prize for Investigative Reporting. Previously, Mr. Kuntz was a reporter for the Congressional Quarterly and The Miami Herald.