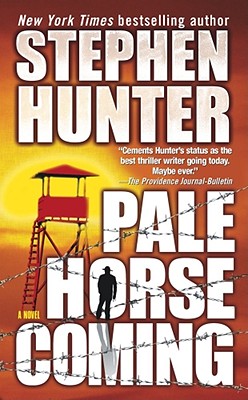 Pale Horse Coming (Mass Market)
Pocket Books, 9780671035464, 608pp.
Publication Date: December 1, 2002
Other Editions of This Title:
Paperback (8/26/2008)
Compact Disc (4/10/2012)
MP3 CD (9/6/2016)
Compact Disc (4/10/2012)
Compact Disc (3/15/2004)
MP3 CD (3/17/2015)
MP3 CD (4/10/2012)
MP3 CD (4/10/2012)
* Individual store prices may vary.
Description
Pale Horse Coming, featuring Stephen Hunter's beloved sniper heroes Earl and Bob Lee Swagger, the first of eleven Swagger thrillers from the Pulitzer Prize–winning author.

The time is 1951. A smooth-talking Chicago lawyer comes to chat with Sam Vincent, the former prosecutor of Polk County, Arkansas, about a dangerous subject—a big prison for violent black convicts near Thebes, Mississippi, up the Yaxahatchee River from Pasagoula. Thebes seems to have dropped out of the Union—letters and phone calls go unanswered, and the lawyer has questions that need answers. Would Sam—an ex-lawman, a white man and a Southerner—agree to go up there and find out what he can?

The ex-prosecutor takes on the job, but first he goes to see his old friend Earl Swagger, and tells him that if he isn't back in a week, Earl is to come looking for him. When Sam vanishes into the mists and swamps around Thebes, Mississippi, Earl packs his gun, explains to a distraught Junie that duty is duty and a promise is a promise, and sets off for Thebes, Mississippi to track his friend down.

Soon enough, Earl—who approaches Thebes and its sinister prison with the stealth of a good Marine on a recon mission—realizes that something very strange indeed is going on there, that the prison is more than just a place that chills the blood of even the most hardened convict, that in fact the whole town of Thebes is hiding a secret—and it's a place where people disappear all too easily, particularly inquisitive strangers, for whom burial in the swamps follows torture.
About the Author
Stephen Hunter has written over twenty novels. The retired chief film critic for The Washington Post, where he won the 2003 Pulitzer Prize for Distinguished Criticism, he has also published two collections of film criticism and a nonfiction work, American Gunfight. He lives in Baltimore, Maryland.
Praise For Pale Horse Coming…
The Providence Journal-Bulletin Cements Hunter's status as the best thriller writer going today. Maybe ever.

The Washington Post Book World Classic hard-boiled fiction....Features some of Hunter's best writing.

San Francisco Examiner One of the best storytellers of his generation.