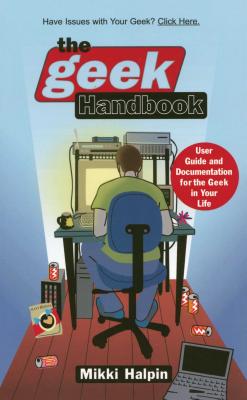 The Geek Handbook (Paperback)
User Guide and Documentation for the Geek in Your Life
Gallery Books, 9780671036867, 128pp.
Publication Date: May 1, 2000
* Individual store prices may vary.
Description
He has reached every level of Myst. Her room is littered with soda cans. He idolizes Data from Star Trek®. But all your favorite geek really wants is to be understood....
Whether you're friends with a geek, work with one, love one, or hate one, The Geek Handbook provides handy instructions for analyzing and understanding all things geek, including:
How Your Geek Relates to Others
Geek organizations and gathering spots
Getting Your Geek to Exercise
Klingon™ martial arts as workout strategy
The Geek Diet
Soda, pizza, and other geek food groups; how to help your geek thrive
About the Author
Mikki Halpin wrote the essay "A Girl's Guide to Geek Guys" for Bunnyhop, and it quickly became an Internet classic, earning Mikki a special place in geekdom. She was editor-in-chief of the online magazine Stim; co-founded the classic 'zine Ben Is Dead; and has written for many publications, including Wired, BookForum, Studio Mix, The Independent, and BUST. She is the author of two books. She lives in New York City.
Praise For The Geek Handbook: User Guide and Documentation for the Geek in Your Life…
Jon Katz author of Geeks: How Two Lost Boys Rode the Internet Out of Idaho Timely, funny...genuinely useful....I laughed out loud.

Eric S. Raymond author of The New Hacker's Dictionary This book may save your relationship. Better yet, it may help you get in touch with your own inner geek.

Jon Katz The Geek Handbook has a vey helpful, even touching, quality to it. Geeks are now running the systems that run the world, and this handbook will help you live with them, work with them, and sometimes even love them. As Halpin points out so skillfully, that isn't always easy.