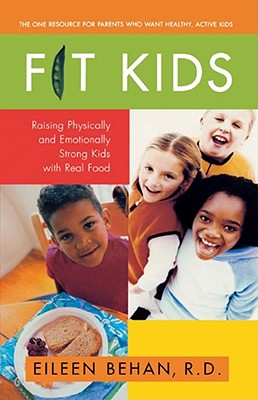 Fit Kids
Raising Physically and Emotionally Strong Kids with Real Food
Paperback

* Individual store prices may vary.
Description
One child in five weighs at least twenty percent more than his or her ideal. However, nurturing physically and emotionally fit kids is easier than we think. Eileen Behan, a registrered dietitian for more than twenty-five years, has seen parents' worst mistakes concerning food and their kids, and has compiled all the advice we need to combat -- and undo -- damaging habits in this remarkable guidebook.
At the end of the year we all wanted to take pictures...but Betsy wouldn't let us because she said pictures make her look fat.
-- a fifth-grader
Discover:
how to tell if you child is actually overweight
how to recondition you child's eating patterns by changing your own attitudes toward food
how to squelch young girls' body image disorders with confidence and self-esteem
the traps laid out by foods marked lite, healthy, contains real fruit
how to implement a family meal plan that emphasizes healthy foods kids will like as well as mealtime strategies that make eating a pleasure
delicious and nutritious recipes for families on the go.
My wife wants to control what our daughter eats, but I think she is making her crazy.
-- Father of an eight-year-ol.
Pocket Books, 9780671037161, 336pp.
Publication Date: May 1, 2001
About the Author
Eileen Behan is a memeber of the American Dietetic Association, a registered dietitian, and the mother of two. She has worked for the Harvard School of Public Health and the Veterans Administration, and for five yuears her show, Food for Talk, has aired on Boston Public Radio. She currently works as a nutrition consultant. She lives with her family in New Hampshire. This is her sixth book on nutrition.