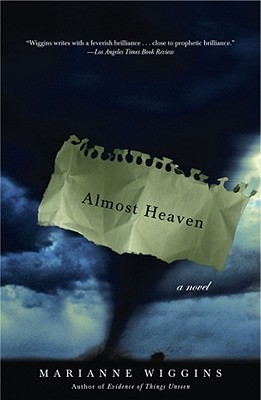 Almost Heaven (Paperback)
Washington Square Press, 9780671038601, 224pp.
Publication Date: December 1, 1999
* Individual store prices may vary.
Description
Before his thirtieth birthday Holden Garfield has already burned out as a journalist in war-torn Bosnia. Returning to the United States, he hopes the familiar sunshine and rolling hills of Virginia will help him put aside the horrors he reported. Instead he finds Melanie, his mentor's sister, who is institutionalized with a mysterious amnesia after her husband and son were killed five weeks earlier by a freak force of nature. Struck as if by lightning by her beauty, Holden sets out to help her reconstruct her past, and the pair is swept up in a passionate love affair -- one fighting to remember, the other struggling to forget.
With this breakneck story of love and loss, Marianne Wiggins delivers a compelling novel that is a series of powerful metaphors for the curative forces of love as well as her own personal love letter to the American South.
Praise For Almost Heaven…
Library Journal


A real tour de force on the immensity of human loss.


Men's Journal


A strange and savage little masterpiece.



The Washington Post Book World

Marianne Wiggins dares to make fictions that stand in the face of heart-cracking circumstance, fictions that, in fact, resound with hearts shattering.



Library Journal

Wiggins writes stunningly polished prose that is both quirky and urgent, letting slip clues to both Holden's and Melanie's situations as the plot builds with a roar to the final blowout.



Men's Journal

She writes with the staccato authority of an Uzi.... She wastes no words, thrusting scene upon scene into your face.



The New York Times Book Review

Wiggins is a writer of substantial gifts....Passion develops through hidden chains of causality, so we never know exactly where or when it's going to strike....Almost Heaven bristles with meteorological imagery -- from heat waves to hailstorms to torrential rain -- all of it related to the emotional lives of her characters.



Booklist

Wiggins is one of those critically acclaimed authors whose books acquire passionate followings...[like] other southern writers who find passion to be a source of both salvation and gothic nightmare.



The Washington Post Book World

Wiggins unabashedly tackles the biggest themes: the vicious randomness of "acts of God" and our attempts to grapple with them; the individual's understanding of itself and the role of memory in that construction; and the endless repetitions of history and tragedy.