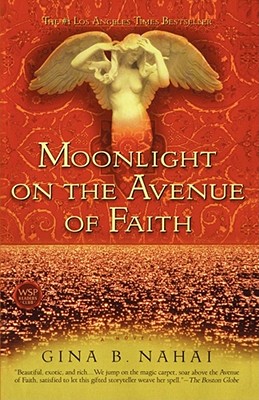 Moonlight on the Avenue of Faith (Paperback)
Washington Square Press, 9780671042837, 400pp.
Publication Date: February 1, 2000
* Individual store prices may vary.
or
Not Currently Available for Direct Purchase
Description
When she is five years old, Lili, the narrator of this epic and magical tale, watches her mother, Roxanna the Angel, throw herself off the balcony of their house on the Avenue of Faith. Roxanna has left no farewell, no explanation. Her family's subsequent search for her reveals no body. no sign of a fall, no trace of an escape. The only witness to Roxanna's disappearance, Lili will spend the next thirteen years looking for her mother, wondering if she is alive, wondering why she left.
This is the remarkable tale that follows Roxanna, born as a "bad-luck child" in the Jewish ghetto of Tehran, through the opulent world of Iran's aristocracy, into the whorehouses of Turkey and at last, to Los Angeles -- the city of exiles -- where she and Lili arc reunited. Gina B. Nahai tells the story of a courageous circle of women standing on the edge of the past, reshaping their lives in America, the land of chances and choices.
Praise For Moonlight on the Avenue of Faith…
The Boston Globe


Beautiful, exotic, and rich....We jump on the magic carpet, soar above the Avenue of Faith, satisfied to let this gifted storyteller weave her spell.


Los Angeles Times


Entrancing...A voice that never loses its poise, that balances cynicism with hope, warmth Willi satire, hte heavy ballast of life Willi the exhilaration of being borne aloft.


The New York Times Book Review


A skilled and inventive writer, Nahai demonstrates that even the darkest magic cannot defeat the extraordinary powers of love.


The New York Times Book Review


A considerable talent. Nahai has achieved some wonderful effects, infusing everyday events with miraculous radiance.


The Boston Globe


A testament to the power and beauty of Gina Nahai's writing and the world she so brilliantly illuminates.


The Plain Dealer (Cleveland)


A novel of stunning beauty and power....A supreme accomplishment. The magical realism so perfectly wrought by García Márquez has rarely been equaled, perhaps only by Toni Morrison in Song of Solomon and here in Nahai's novel.


The Orlando Sentinel


A multigenerational story as intricate and richly hued as a Persian carpet. As she revealed in Cry of the Peacock, Nahai possesses an array of talents, all of which glitter in Moonlight on the Avenue of Faith. Nahai's writing recalls that of Gabriel García Márquez and Amy Tan, yet her prose bears its own stamp of inventiveness and vivacity...A modern-day Scheherazade.


Portland Oregonian


A sprawling tapestry of a novel....Clear testimony to her skill as a storyteller, Gina B. Nahai works in elegant contrasts, the spellbinding extremes of the best of the magical realist tradition, conjuring a story that glows as if lit by a subtle, internal fire.


The Dallas Morning News


A nice addition to the canon of magic realism....Ms. Nahai's lyrical command of her words carries through consistently. The book's effectiveness deepens into a powerful and surprising final chapter.


The Toronto Star


Lyrical, beautiful....A languid, steamy read.
Advertisement