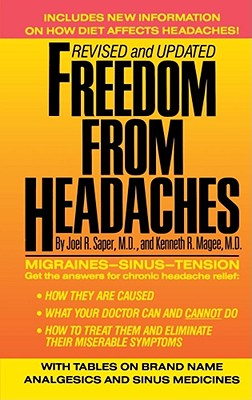 Freedom from Headaches
A Personal Guide for Understanding and Treating Headache, Face, and Neck Pain (Fireside Books (Holiday House))
Paperback

* Individual store prices may vary.
Description
Headache pain is unlike any other pain; when your head throbs, your entire body suffers. An estimated 20 to 40 million people in the United States are victims of chronic, recurring headaches. Many suffer not only from the torturous pain, but also from rejection by family and friends who cannot understand the moods and agony of the victim. Adverse effects from medication and mounting medical bills add to the misery, until loneliness and despair become overwhelming.
Here is a book written for those who desperately seek an understanding of their distressing condition and who want down-to-earth, realistic advice and specific suggestions for finding relief from headache pain.
Freedom from Headaches discusses:
-- pain and its treatment
-- the different headache genres -- migraines, tension, cluster, sinus
-- headaches that are symptoms of other medical conditions -- hypertension, infection, hangover
-- the relationship between diet and headaches
-- the emotional aspects of pain and their role in the headache problem
-- how to find the best doctor for you
Written with sensitivity and humor in an easy-to-understand style, Freedom from Headaches offers what all headache sufferers seek: medically sound knowledge, advice, and encouragement.
Touchstone Books, 9780671254049, 236pp.
Publication Date: March 19, 1986