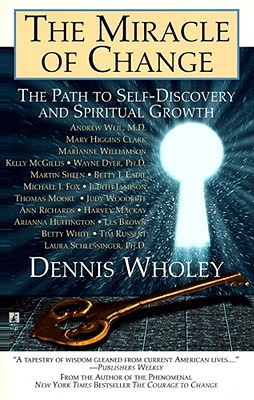 The Miracle of Change
Paperback

* Individual store prices may vary.
Description
Dennis Wholey's astounding New York Times bestseller, The Courage to Change, emerged as a classic in the field of recovery and personal growth. Now, the acclaimed PBS talk show interviewer explores the emotional and spiritual aspects of change in this long-awaited breakthrough book for everyone, and guides us on the path to accepting and even welcoming the changes that are at the heart of living.
Featuring the personal reflections of more than sixty individuals -- from well-known celebrities to anonymous contributors -- The Miracle of Change offers an enlightened way to use the gift of change successfully in our own lives and to reap the freedom, contentment and happiness that life's transitions can bring. These shared insights and practical strategies lead us from holding on to letting go, from loss to new beginnings, from fear to the courage to change. Whatever you are facing a new career, marriage or divorce, recovery from self-defeating behavior or addiction, illness, or simply the search for meaning in an ever changing world, you will find Dennis Wholey's extraordinary treasury an inspiring guide through the exciting process of change.
Atria Books, 9780671518905, 304pp.
Publication Date: April 1, 1998
About the Author
Dennis Wholey is a veteran talk-show host and bestselling author who has been interviewing political leaders, celebrities, newsmakers, authors, and experts for television, radio, and books for more than twenty-five years. He is the author of the New York Times bestseller The Courage to Change, and three subsequent books about personal growth. Dennis Wholey hosts This Is America With Dennis Wholey and Dennis Wholey America! for PBS television stations and Nostalgia Television. He lives in Washington, D.C