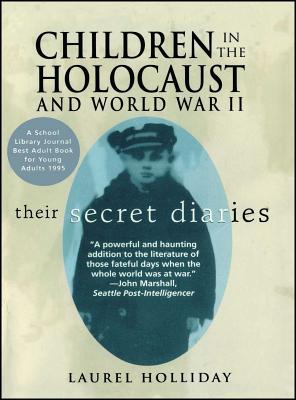 Children in the Holocaust and World War II (Paperback)
Children in the Holocaust and World War II
Washington Square Press, 9780671520557, 432pp.
Publication Date: June 1, 1996
* Individual store prices may vary.
Description
Children in the Holocaust and World War II is an extraordinary, unprecedented anthology of diaries written by children all across Nazi-occupied Europe and in England.

Twenty-three young people, ages ten through eighteen, recount in vivid detail the horrors they lived through, day after day. As powerful as The Diary of Anne Frank and Zlata's Diary, here are children's experiences—all written with an unguarded eloquence that belies their years. The diarists include a Hungarian girl, selected by Mengele to be put in a line of prisoners who were tortured and murdered; a Danish Christian boy executed by the Nazis for his partisan work; and a twelve-year-old Dutch boy who lived through the Blitzkrieg in Rotterdam. In the Janowska death camp, eleven-year-old Pole Janina Heshele so inspired her fellow prisoners with the power of her poetry that they found a way to save her from the Nazi ovens. Mary Berg was imprisoned at sixteen in the Warsaw ghetto even though her mother was American and Christian. She left an eyewitness record of ghetto atrocities, a diary she was able to smuggle out of captivity. Moshe Flinker, a sixteen-year-old Netherlander, was betrayed by an informer who led the Gestapo to his family's door; Moshe and his parents died in Auschwitz in 1944. They come from Czechoslovakia, Austria, Israel, Poland, Holland, Belgium, Hungary, Lithuania, Russia, England, and Denmark. They write in spare, searing prose of life in ghettos and concentration camps, of bombings and Blitzkriegs, of fear and courage, tragedy and transcendence. Their voices and their vision ennoble us all.
About the Author
Laurel Holliday, formerly a college teacher, editor, and psychotherapist, now writes full time in Seattle. She is the award-winning author of the Children of Conflict series: Children in the Holocaust and World War II: Their Secret Diaries; Children of The Troubles: Our Lives in the Crossfire of Northern Ireland; and Children of Israel, Children of Palestine: Our Own True Stories. Those three volumes were collected and abridged in the Archway Paperback edition titled Why Do They Hate Me?: Young Lives Caught in War and Conflict. Dreaming in Color, Living in Black and White is an abridged edition of Holliday?s fourth title in the Children of Conflict series, Children of the Dream: Our Own Stories of Growing Up Black in America. Laurel Holliday is also the author of Heartsongs, an international collection of young girls' diaries, which won a Best Book for Young Adults Award from the American Library Association.