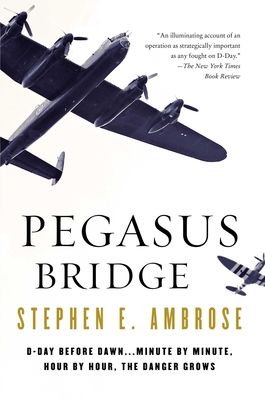 Pegasus Bridge (Paperback)
Simon & Schuster, 9780671671563, 208pp.
Publication Date: November 15, 1988
Description
In the early morning hours of June 6, 1944, a small detachment of British airborne troops stormed the German defense forces and paved the way for the Allied invasion of Europe. Pegasus Bridge was the first engagement of D-Day, the turning point of World War II. This gripping account of it by acclaimed author Stephen Ambrose brings to life a daring mission so crucial that, had it been unsuccessful, the entire Normandy invasion might have failed. Ambrose traces each step of the preparations over many months to the minute-by-minute excitement of the hand-to-hand confrontations on the bridge. This is a story of heroism and cowardice, kindness and brutality--the stuff of all great adventures.
Praise For Pegasus Bridge…
Los Angeles Herald Examiner


All the vividness of a movie, and all the intelligence -- in every sense -- of fine military history.



Drew Middleton
The New York Times Book Review

An illuminating account of an operation as strategically important as any fought on D-Day.



James Pitts
New Orleans Times

A little gem. One that will be drawn from by historians of the future.




Noland Norgaard
The Denver Post

The best war story this reviewer has ever read.
Advertisement