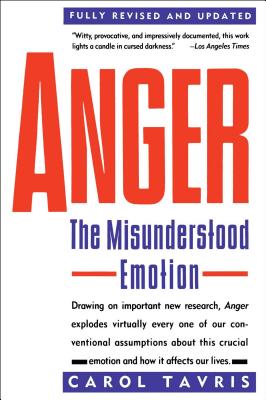 Anger
The Misunderstood Emotion
Paperback

* Individual store prices may vary.
Description
"This landmark book" (San Francisco Chronicle) dispels the common myths about the causes and uses of anger— for example, that expressing anger is always good for you, that suppressing anger is always unhealthy, or that women have special "anger problems" that men do not. Dr. Carol Tavris expertly examines every facet of that fascinating emotion—from genetics to stress to the rage for justice.

Fully revised and updated, Anger: The Misunderstood Emotion now includes:

* A new consideration of biological politics: Should testosterone or PMS excuse rotten tempers or aggressive actions?
* The five conditions under which anger is likely to be effective—and when it's not.
* Strategies for solving specific anger problems—chronic anger, dealing with difficult people, repeated family battles, anger after divorce or victimization, and aggressive children.
Praise For Anger: The Misunderstood Emotion…
Los Angeles Times Witty, provocative, and impressively documented, this work lights a candle in cursed darkness.

Dr. Ashley Montagu author of The Nature of Human Aggression This book is not only the best of its kind ever written, but the most helpfully enlightening I have ever read.

The New York Times Intelligent and witty, Tavris shows us how to use the anger of hope to avoid falling into the anger of despair.

Philadelphia Inquirer Enlightening and reassuring. Her calm approach to a volatile subject is a welcome tonic for our times.
Touchstone, 9780671675233, 384pp.
Publication Date: September 15, 1989
About the Author
Carol Tavris, Ph.D., earned her doctorate in social psychology from the University of Michigan. She was senior editor for several years of a then-new magazine, Psychology Today, and went on to develop a career as a teacher, lecturer, and psychology writer. She is coauthor (with Carole Wade) of The Longest War: Sex Differences in Perspective and an introductory textbook, Psychology. In addition to writing the "Mind Health" column for Vogue magazine, she has written many articles and book reviews on diverse issues in psychology for a wide variety of magazines, including The New York Times, Discover, Science Digest, Human Nature, New York, Harper's, Geo, Ms., Redbook, and Woman's Day. While living in New York, Tavris taught at the Human Relations Center of the New School for Social Research, and in Los Angeles she now teaches from time to time in the department of psychology at UCLA.